Coulter Slams 'Rich Elite' Jim Carrey Over Hypocrisy Of Anti-Gun Funny Or Die Video On Hannity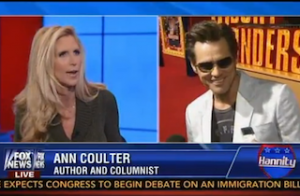 Following Greg Gutfeld's explosion on The Five earlier this afternoon, Sean Hannity and Ann Coulter took on Jim Carrey's anti-gun Funny or Die video tonight.
Asked by Hannity if she thought Carrey would make fun of African-Americans or Muslim Americans the way he mocked rural white gun owners, Coulter responded, "no, you're allowed to make fun of white southerners and Christians in America." She chalked Carrey's video up as the latest example in the "epidemic" of "wealthy people" trying to tell the rest of country not to carry and own firearms, a clear allusion to Mayor Bloomberg's gun control campaign. Linking Carrey's video to Hannity's assertion that the government is buying up a billion rounds of ammunition, Coulter claimed, "that's the only question with gun control: should the government and rich elites like Bloomberg, Feinstein and Jim Carrey have a monopoly on force?"
Eventually, the conversation shifted to Coulter's CPAC speech and her advice for Republicans heading into the 2014 and 2016 election cycles. She summarily dismissed Senators Marco Rubio and Rand Paul for not only being too inexperienced, but also too short to be viable presidential candidates. Arguing that the GOP should run a governor for president, she even appeared to open herself back up to the prospect of New Jersey Governor Chris Christie, who she had previously crossed "off her list" due to his embrace of "amnesty" for undocumented immigrants.
Watch video below, via Fox News:
—
>> Follow Matt Wilstein (@TheMattWilstein) on Twitter
Have a tip we should know? tips@mediaite.com