Fox And CNN Speculate Link To Boston Marathon Bombing: Waco And Oklahoma City Were On Patriots' Day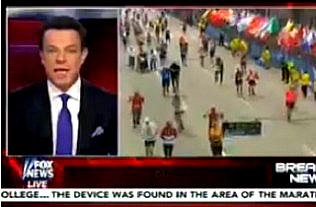 With lots more demand for information than information to report, journalists covering the bombings at the Boston Marathon Monday have turned to speculating about a possible connection between the bombing and Massachusetts' Patriots' Day holiday. In a tweet this afternoon, NBC News' Luke Russert related the date to the end of the 1993 siege on the Branch Davidian compound in Waco, Texas, while CNN's Wolf Blitzer is taking heat from conservative site Hot Air for speculating about the holiday. On Fox News, Shep Smith also pointed out the connection to the 1995 Oklahoma City bombing.
In a live telephone segment with former diplomat R.P. Eddy, Shep Smith waxed poetic about Boston, "one of our oldest and most treasured cities," and mentioned that today's bombing occurred on Patriots' Day, "one of celebration in that city, but one marked for many years from time to time with moments of great tragedy in this nation," adding, "we can look back to Columbine," before correcting himself. "Not so much Columbine, but the Oklahoma city building and the events at Waco and just wonder…
After several seconds of silence, Shep wondered if his guest had dropped off the line.
"No, no. I am here,"Eddy said. "That is an interesting question, Shep. Again, making a supposition at this point is foolish, but I would not be surprised if we find this to be a lone wolf or local group," adding that "perhaps something like a Unabomber."
Patriots' Day is currently observed on the third Monday in April, but until 1969, was celebrated on April 19 to commemorate the anniversary of the Battles of Lexington and Concord. The Waco siege ended on April 19, 1993, which was also a Monday, while the Oklahoma City bombing took place on Wednesday, April 19, 1995, which would coincide only with the original observance of Patriots' Day. The Columbine High School shooting happened on Tuesday, April 20, 1999, the day after Patriots' Day.
Hand-wringing over this sort of speculation, unless it leads to unfounded conclusions, seems a little overwrought. It is a confirmable fact that today is Patriots' Day, and that other events like this have happened on this holiday.
Here's the clip, from Fox News:
Have a tip we should know? tips@mediaite.com