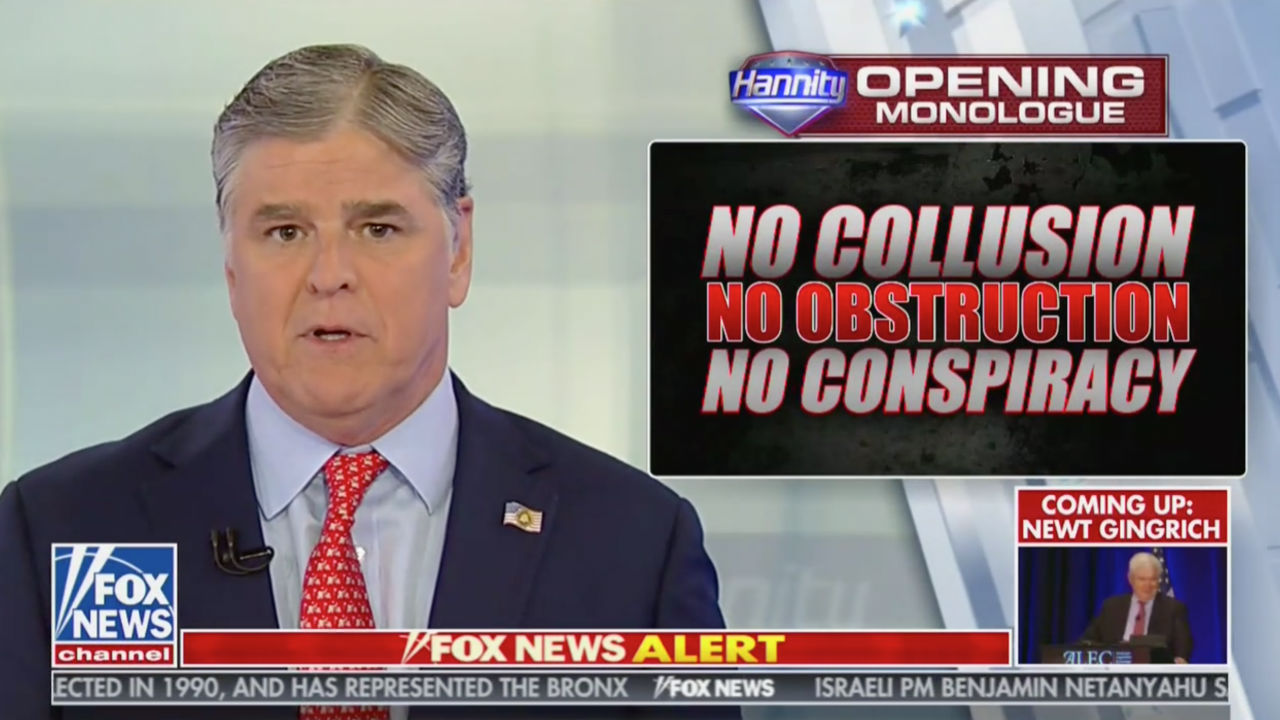 After spending the better part of two years scrutinizing every breadcrumb of the Mueller investigation, cable news's primetime hosts took to the air Monday night to offer their takes on what we know of the results.
Fox News's Sean Hannity, contrary to expectations, was far from ebullient, instead offering a furious condemnation of the probe and its media coverage. MSNBC's Rachel Maddow had more than a dozen questions for AG William Barr she demanded answers to. CNN's Chris Cuomo had a sparring match with Rudy Giuliani, the president's victorious lawyer.
And now the ratings are in: on Monday night, Fox News stormed the competition. Hannity, at 9 p.m., hit a whopping 4 million total viewers, with 728,000 in the advertiser coveted 25-54 demographic — even beating out the ratings for network station CBS's Mueller report. Maddow put up a lackluster 2.5 million in total viewers and 423,000 in the demo, while Cuomo hit 911,000 in total viewers, 238,000 in the demo.
At 8 p.m., meanwhile, Tucker Carlson also beat out the competition by considerable margins: the Fox News host scored 3.8 million total viewers and 717,000 in the demo. Chris Hayes notched 1.5 million total viewers and 244,000 in the demo, while Anderson Cooper bagged 795,000 viewers with 212,000 in the demo.
Sunday's numbers followed a similar pattern. Cable news networks remained fixed in "BREAKING NEWS" mode over the weekend, rolling out special graphics and top anchors to await news from Mueller's long awaited report.
An update finally came on Sunday afternoon, when Barr submitted a summary of the report — which found no evidence of a Trump-Russia conspiracy — to Congress.
Fox News was the most watched network in total viewers and in the demo on Sunday, according to Nielsen numbers released by the network. Dana Perino and Ed Henry co-anchored Fox News's coverage, and when news of Barr's summary broke at 3 p.m., the network averaged 1.6 million total viewers and 270,000 in the demo.
CNN napped 855,000 total viewers and 253,000 in the demo, while MSNBC scored 897,000 total viewers and 154,000 in the demo.
At 4 p.m., Fox's coverage led by Shannon Bream jumped to 2.1 million total viewers and 397,000 in the demo. CNN hit 1 million total viewers and 300,000 in the demo, while MSNBC hit 1.1 million total viewers with 219,999 in the demo.
Have a tip we should know? [email protected]