Fox's Stacey Dash: Obama Doesn't 'Give a Shit' About Terrorism
Fox's Dash: Obama Doesn't 'Give a Shit' About Terrorism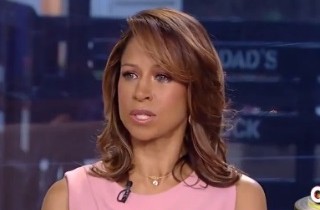 Fox News contributor Stacey Dash committed a big cable news no-no Monday afternoon, saying that President Barack Obama didn't "give a shit" during his Sunday speech on terrorism.
"It's ridiculous," she said on Fox's Outnumbered. "His speech was an epic fail. It was like when you have to go to dinner with your parents, but you have a party to go to afterwards, that's what it felt like."
"I did not feel any better. I didn't feel any passion from him…" she continued. "I felt like he could give a shit– excuse me, like he could care less." The Fox News censors were on point, however, and only the first part of the swear word made it on air.
Dash wasn't even the first Fox contributor to use vulgar language on live television to attack the president Monday. Earlier, Fox's Ralph Peters was chastised by Fox Business host Stuart Varney after he called Obama a "total pussy."
UPDATE –– 4:00 pm EST: Dash has been suspended for two weeks for using profanity on air.
UPDATE –– 5:15 pm EST: Fox's own Howard Kurtz posted some criticism later in the day:
On Fox, Ralph Peters calls Obama a "total pussy" and Stacey Dash says he doesn't "give a shit" about terrorism. Fliippin' embarrassing

— HowardKurtz (@HowardKurtz) December 7, 2015
Critics can say what they want about the president's policies, but no need for such crude language on the air

— HowardKurtz (@HowardKurtz) December 7, 2015
[Image via screengrab]
——
>>Follow Alex Griswold (@HashtagGriswold) on Twitter
Have a tip we should know? tips@mediaite.com