Glenn Beck Is Heading Online, Announces New Two-Hour, Subscription-Based Show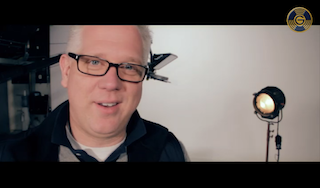 Despite his distaste for Facebook and Google, it's been clear for a while that Glenn Beck sees the writing on the wall-post; the Internet is the future. Last night, the New York Times got an exclusive scoop on what his part of the future will look like. The rumors have been confirmed. Beck will be starting a "live streaming video network" called GBTV and will continue to have a daily show. Only now, it will be two hours long and viewers will be paying him monthly subscriptions instead of sending the money to the cable company.
From the New York Times:
On Tuesday, Mr. Beck will announce a first-of-its-kind effort to take a popular — but also fiercely polarizing — television show and turn it into its own subscription enterprise. It is an adaptation of the business models of both HBO and Netflix for one man's personal brand — and a huge risk, as he and his staff members acknowledged in interviews in recent days.

'I think we might be a little early,' Mr. Beck said of his plan for the Internet network, called GBTV, which will cost $5 to $10. 'But I'd rather be ahead of the pack than part of it.'
Throughout the article, Beck talks at length about "leading the pack" into the future and while this might all be boiler plate marketing talk for someone starting a new brand, there are a few hints he may be accurate. What intrigues this writer the most is the insinuations that GBTV won't just be focusing on political talk shows. While it will feature contributions from the likes of S.E. Cupp, who currently hosts a show on Beck's current Insider Extreme network (which now seems like an embryonic forebear), there's an interesting quote where Beck promises that GBTV will feature something for fans of The Daily Show and 24. Does this just mean that Beck is going to be filling that extra hour with more jokes and a loud ticking clock or is GBTV going to become a full-fledged network with comedy and action shows all going directly to paid subscribers on their computers?
The article compares the new business model to that of HBO's, what with its subscribers, but it seems Beck may be heading towards the same future as that network's HBO Go platform. While HBO Go seems mostly as a way to combat Netflix (we've got streaming, but you still have to subscribe to us!), I've felt for a while (and not without reason) that it could be a big step towards a time when television viewers subscribe to networks themselves instead of having to pay for huge packages from the cable company with hundreds of channels they don't want. It's seems natural to me that this would be the next advance of the "exactly what I want, when I want it" digital revolution.
If Beck really is making a TV network that is separate from the cable company system (and, seriously, the difference between computer and television is going to be nothing more than screen-size soon), then this new venture may actually be as forward-thinking and revolutionary as all the marketing talk makes it sound.
GBTV is live as of today while Beck's new show won't premiere till September, a couple months after Beck's Fox News show ends. GBTV's president for programming will be Joel Cheatwood whom, if you'll remember, Beck who formerly worked at Fox News.
Read the full New York Times article here. More information about GBTV, including the full press release, is at GlennBeck.com. That site also features a (slightly goofy) promo for the network which we've embedded below:
Have a tip we should know? tips@mediaite.com