Glenn Beck, Rand Paul Wonder If Gay Marriage Rulings Will Lead To Polygamy, Zoophilia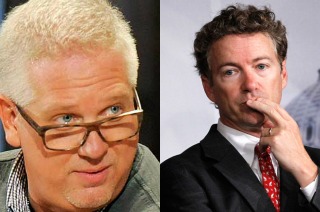 During an interview with Sen. Rand Paul (R-KY) in the wake of Wednesday's historic rulings regarding two contentious cases relating to the legality of gay marriage in the United States, conservative radio host Glenn Beck revealed that he was "very concerned" by those rulings. Beck said that he could envision a time in which the Court's rulings on gay marriage could lead to the legalization of polygamy for, for example, a "devout Muslim." Paul added that he could envision a possible legal case involving animal-human marriage as well.

Beck began by saying he did not care whether two adults, gay or straight, get married. However, he said he was "very concerned" about how changing the definition of marriage would play out in the courts.
RELATED: Gay Marriage Rulings Make MSNBC's Harris-Perry Sad Because They Gut 'Power Of Federal Government'
"If you change one variable — man and a woman to man and man, and woman and woman," Becks said, "you cannot then tell me that you cannot logically tell me you can't change the other variable: one man, three women. One woman, four men."
"Who are you to say, if I'm a devout Muslim and I come over here and I have three wives, who are you to say if I'm an American citizen, that I can't have multiple marriages," Beck added.
"And I think this is a conundrum," Paul said. "If we have no laws on this, people take it to one extension further – does it have to be humans? You know?"
"The question is what social mores – can some social mores be part of legislation?" Paul asked philosophically.
Listen to the clip below via The Glenn Beck Show:
h/t BuzzFeed
> >Follow Noah Rothman (@NoahCRothman) on Twitter
Have a tip we should know? tips@mediaite.com