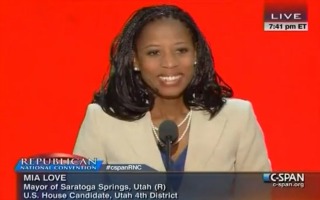 Saratoga Springs Mayor Mia Love, a GOP candidate for Congress from Utah, took the stage at the Republican National Convention on Monday and delivered a fiery speech that was particularly well received by the Republicans in attendance. She slammed President Barack Obama and praised her background which she called "the American dream."

"Let em tell you about the America I know," Love began. "My parents immigrated to this country with $10 in their pockets and the hope that the America they heard about really did exist."
She said her parents imbued her with a sense of self-reliance and the rewards she could achieve because of the American dream if she applied herself.
"The America I now is grounded in the determination found in patriots and pioneers," Love continued. "It's found in the Olympic athletes and every child who looks at the impossible and says, 'I can do that.' That's the America I know."
She hit President Obama for dividing America and failing the nation over the course of his first term. "His policies have failed us. We're not better off than we were four years ago. And no rhetoric, bumper sticker or Hollywood campaign ad can change that," Love fired out to the applause of the crowd.
"Mr. President, I'm here to tell you the American people are awake and we're not buying what you're selling in 2012," Love continued to applause.
Love went on to praise the American dream which she called her story and the story of millions of her fellow citizens. "This is the America we know because we built it," said Love to spontaneous chants of "U.S.A" from the crowd.
Watch the speech below via C-SPAN:
> >Follow Noah Rothman (@Noah_C_Rothman) on Twitter
Have a tip we should know? tips@mediaite.com