Gretchen Carlson Drags Roger Ailes Movie: Nicole Kidman 'Looks Nothing Like Me'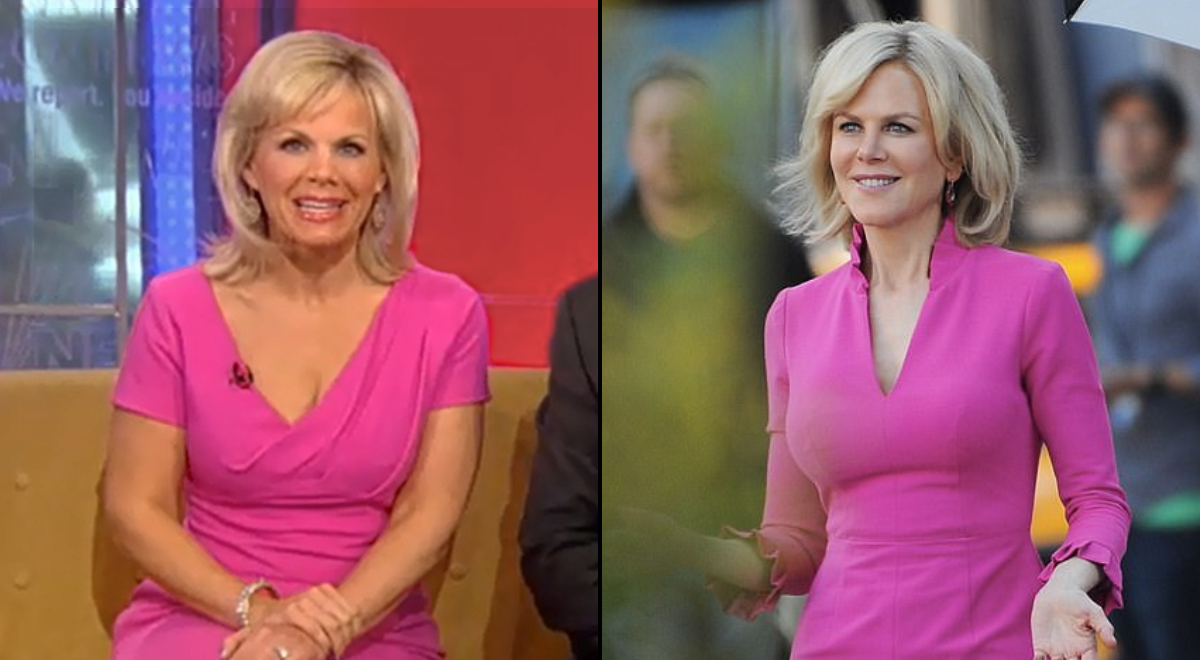 Gretchen Carlson (L) on set of Fox & Friends. Nicole Kidman (R) in costume as Carlson on the set of a new film about Roger Ailes.
A new dramatized biopic on the late Roger Ailes, disgraced former head of Fox News, has cast actress Nicole Kidman in the role of former FNC host and current Chair of the Miss America Organization Gretchen Carlson, and Carlson isn't happy about it.
The untitled film from director Jay Roach centers around Ailes's resignation under fire as multiple sexual harassment allegations were made against him. The production has made several high profile casting choices in the last few weeks, including not only Kidman as Carlson but Ahna O'Reilly as former Fox contributor Julie Roginsky, who filed a lawsuit against Ailes, and Connie Britton as Roger's wife Beth Ailes. The film also stars Charlize Theron as Megyn Kelly.
But Carlson isn't happy with either the casting or the script, she tweeted on Tuesday.
This looks nothing like me & the script I've seen makes other people out to be heroes unjustifiably. Hard to see your own story faked. Unfortunately – Proves trumps claim of #FakeNews #Realstory https://t.co/QR9Fm3d6X7

— Gretchen Carlson (@GretchenCarlson) December 11, 2018
When Kidman was first brought into talks for the part, Carlson said at the time that Kidman is so much taller than her she'd have to wear "really, really, really high heels" if the two were ever on the red carpet together. In that same interview with People, she said that she hoped only for accuracy and that films about the harassment charges and lawsuits "get the story right."
In her Tuesday Tweet, she said that it's "Hard to see your own story faked," so clearly she doesn't think they are getting it right. Adding that it "proves Trump's claim" of fake news is a multi-layered addendum to the tweet, considering the person who is the subject of the film as well as the subject matter.
Gretchen also engaged some who responded to her tweet, making her objections very clear.
Nah I've seen the script

— Gretchen Carlson (@GretchenCarlson) December 11, 2018
No I thought they'd get the story half right at very least

— Gretchen Carlson (@GretchenCarlson) December 11, 2018
The Jay Roach film, set for 2019, is a biopic, not to be confused with the documentary "Divide and Conquer", which is in limited theatrical release currently.
[Featured image via screengrab]
—
Follow Caleb Howe (@CalebHowe) on Twitter
Have a tip we should know? tips@mediaite.com