Gun Advocate Larry Pratt Vows To Primary Pat Toomey In Heated Exchange With CNN's Blitzer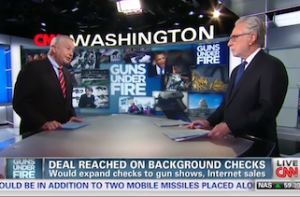 Gun Owners for America's Larry Pratt went on CNN's The Situation Room Wednesday afternoon to discuss the latest gun legislation working its way towards the Senate floor. Specifically, Wolf Blitzer wanted to know what Pratt thought of Republican Senator Pat Toomey's decision to back an expanded background checks compromise with Democrat Sen. Joe Manchin III.
Earlier today, Toomey and Manchin held a joint press conference to announce the measure, which would broaden background checks on gun purchases to cover private gun shows and the internet. In his remarks, Toomey stressed his support for the Second Amendment, saying that background checks do not equal "gun control," but rather "common sense."
Pratt immediately began laying into to Toomey for what he saw as a betrayal of his conservative pro-gun rights record. "It's so easy to say you support the Second Amendment," Pratt said, comparing Toomey to liberal Sen. Chuck Schumer (D-NY), who has also stated his support for the right to bear arms while arguing for stricter gun control laws.
Blitzer pushed back, arguing that one can believe in the First Amendment and still think it's not OK to "cry fire in a crowded theater."
Pratt was having none of that argument, calling the background checks measure "prior restraint" and arguing to Blitzer that "you and I didn't have to go through a censor before we went on this show. But what you are proposing is precisely that and creating a registry of it."
Moving on, Blitzer presented a tweet that Pratt sent out earlier in the day, which appears to serve as a political threat to Toomey for his actions on the gun measure:

"It means that he ought to be held politically accountable," Pratt explained, "and the way to do it is in a primary." In 2004, Toomey challenged and defeated incumbent Senator Arlen Specter in a primary campaign that essentially accused Specter of not being conservative enough. Pratt confirmed with Blitzer that "because [Toomey] supports expanding background checks" he thinks an even more conservative Republican should come in and do the same to Toomey in 2014. He added that his organization will be actively looking for a candidate to back.
When Blitzer brought up the polls showing that 90% of Americans support expanding background checks, Pratt dismissed them as not being very "credible." Finally, Blitzer asked him if he is even willing to dismiss Fox News polls on the subject. "I'm not sure I believe any polls at this time," Pratt concluded. "I don't think they know how to ask the right questions."
Watch video below, via CNN:
—
>> Follow Matt Wilstein (@TheMattWilstein) on Twitter
Have a tip we should know? tips@mediaite.com