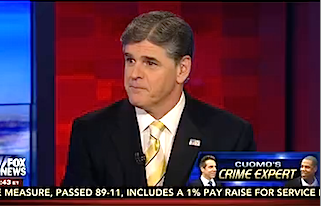 The New York Post, and subsequently FoxNation.com, really outdid itself on Friday by referring to rapper Jay Z as an "ex-crack dealer" in its story about his meeting with Governor Andrew Cuomo (D-NY) to discuss criminal justice reform. Last night, Fox News' Sean Hannity was just as eager to highlight Jay Z's criminal past in his coverage of the meeting.
"I want to talk about Jay Z, who is now the adviser of Andrew Cuomo," Hannity said, before quoting from the rapper's book Decoded
, which includes lines about his past as a drug dealer. "Why would the governor pick him?" the host asked. "We can't do better than a former crack dealer?"
As Democratic strategist Brian Benjamin pointed out, Cuomo has not hired Jay Z as an official adviser, but rather met with him, among many other people, to discuss reform of the criminal justice system. He noted that Jay Z "turned his life around and is doing a lot of great things in the community."
But Hannity and his other guest, former NYPD detective Bo Dietl, weren't buying it, choosing only to see Jay Z's troubled past instead of his bright present.
Conservative pundits like Hannity and Bill O'Reilly are always urging African-American men to take responsibility and use the capitalist system to raise themselves out of dangerous situation. Through his music and other businesses, Jay Z has become one of the most successful men in America and can by all accounts add respectful husband and father to that resume.
Shouldn't that make him a Fox News favorite?
Watch video below, via Fox News:
[Photo via screengrab]
— —
>> Follow Matt Wilstein (@TheMattWilstein) on Twitter
Have a tip we should know? tips@mediaite.com