Hannity, Sarah Palin Question Lack Of Outrage About Obama's Immigration Policy 'Power Grab'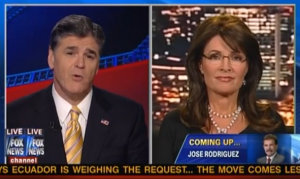 In a segment aptly titled "Obamnesty," Sean Hannity sought Sarah Palin's opinion on President Obama's new immigration policy on Tuesday night. Noting the president's "unprecedented power grab," Hannity cited previous remarks in which Obama said he had no authority to make such a change. Not so unprecedented, Palin noted, arguing Obama's been ignoring the balance of power all long.
Kicking off the segment, Hannity played a 2011 clip in which Obama expressed not having authority to unilaterally change laws. In it, Obama's remarks included:
I just have to continue to say this notion that somehow I can just change the laws unilaterally is just not true. We are doing everything we can administratively. But the fact of the matter is there are laws on the books that I have to enforce. And I think there's been a great disservice done to the cause of getting the DREAM Act passed and getting comprehensive immigration passed by perpetrating the notion that somehow, by myself, I can go and do these things. It's just not true.
Responding to Hannity, Palin said, "I don't know if it is an unprecedented power grab because we have seen him do this over and over again." She cited ObamaCare as an example. It's "par for the course," she said, and Obama doesn't respect the balance of power in the federal government.
She and Hannity both expressed surprise that there isn't more outrage over this issue, with Palin pointing out that Obama, as a former constitutional law professor, should know better. "The students got ripped off in their courses if President Obama taught them what he is doing do the rest of America today," she said.
At the end of the segment, Palin addressed her not mentioning Mitt Romney during her recent speech at an Americans for Prosperity event. She didn't want to violate their rules, she said, adding that endorsements were not the focus of the event. She affirmed her support for Romney citing her consistent message: anybody but Obama.
Take a look, via Fox News:

Have a tip we should know? tips@mediaite.com