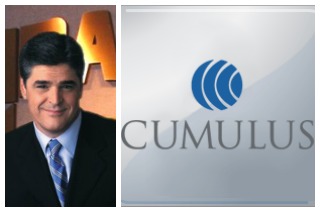 Sources close to conservative television and radio host Sean Hannity tell Mediaite that last night's "prediction" by conservative radio host Michael Savage — that he would be inheriting Hannity's broadcast slot on Cumulus-owned stations in the coming weeks — comes two weeks too late. Sources say that Hannity wants out of his contract with Cumulus and, in particular, his professional relationship with Cumulus CEO Lew Dickey. In fact, he made the decision to move on some time ago.

"I predict, right here, right now, that I, Michael Savage and The Savage Nation, is going to take over The Sean Hannity Show time slot by the end of the year," Savage told his audience on Thursday night. "I am the heir apparent to afternoon drive on the east coast and around America on Cumulus stations, which have the most powerful stations in the radio world."
Cumulus has spent the last two quarterly earnings calls with investors lamenting the state of their fiscal position and blaming their financial woes – after taking control of several flagship radio stations in the nation's largest radio markets – on the suddenly controversial Hannity and Rush Limbaugh.
RELATED: Michael Savage Predicts He Will Replace Hannity at Cumulus, Limbaugh Likely to Stay
Those long-time broadcasters were detrimental to Cumulus' bottom line, the network claimed, because advertisers would not touch them given their predisposition to court controversy. Furthermore, Cumulus insisted, advertisers could not be convinced to buy into programs with a rapidly aging listener base. Cumulus' cure for these supposed ills? Of course, the septuagenarian flamethrower Savage, who was booted from his MSNBC television program in 2003 after he told a gay caller to "get AIDS and die."
Sources close to Hannity tell Mediaite that, while Limbaugh is likely to stay with the syndicator (a likelihood Mediaite reported would be the case in July, again undermining the refrain from Cumulus brass that their stations were suffering in the wake of the scandal surrounding Limbaugh's comments about Sandra Fluke), Hannity will allow his contract to lapse.
Hannity's gripe with Cumulus and Dickey goes back to the first weeks after they took control over a number of powerful stations in major markets in the fall of 2011.
One of Cumulus' first moves was to let go of a variety of notable on and off-air personalities. In New York City's WABC-AM and WPLJ-FM, 15 staffers were fired right after Cumulus acquired those stations' former parent company, Citadel. Many of those fired staffers were hired by former Programming Director Laurie Cantillo, who resigned herself days later.
On the West Coast, 30-year radio broadcasting veteran and president of KSFO and KGO in San Francisco, Mickey Luckoff "angrily" announced he was "canceled by management." A similar fate awaited KSFO and KGO operations manager Jack Swanson and news director Ken Berry.
These unpopular downsizing decisions did not, apparently, help resurrect those stations bottom lines. Sources shared data with Mediaite which shows that, since September, 2011, many Cumulus stations have suffered a significant dip in the ratings among the key 25-54 demographic.
WABC is down 45 percent in the demo from 6 a.m. to midnight in average quarter hour (AQH) audience. KABC in Los Angeles is down more than 61 percent in AQH and KGO is down 57 percent. In New York and Los Angeles, meanwhile, Hannity's three hour afternoon broadcast continued to over-perform in the demo during afternoon drive.
While Hannity may soon be saying goodbye to the flagship stations he's manned for so long, he will not be saying goodbye to radio. Of the more than 500 stations on which his program is syndicated nationally, Premiere Radio Network is prepared with replacement venues for many of the 40 plus stations in the markets he is losing.
"80 percent of those stations we are going to replace on day one," said a source close to Hannity. "The rest we're going to be working hard every day to replace every last affiliate." In fact, it is likely that Hannity will be competing against Michael Savage in a number of radio markets in the coming months. In that event, Cumulus' routinely dour quarterly earnings calls are unlikely to take on a more sanguine tone in the coming weeks.
—-
> >Follow Noah Rothman (@NoahCRothman) on Twitter
Have a tip we should know? tips@mediaite.com