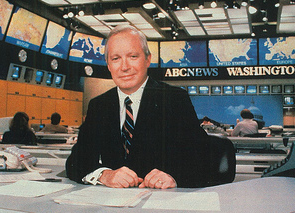 It's been almost thirty years since the shooting of President Ronald Reagan and a resulting moment of frustration on live television, when ABC News anchor Frank Reynolds, who'd been told wounded White House press secretary James Brady had died–only to be told moments later the report was false (Brady survived)–said the words that ring in many journalists' minds to this day: "let's nail it down, let's get it right."
The dual drives of getting the story first, while also getting it right require intense focus on the details–and a resistance to rushing to air something that hasn't been thoroughly verified. Failing that, mistakes end up on air, and the aftermath is painful and embarrassing.
NPR News was forced to apologize for the most noteworthy–and repeated–mistake of the weekend: the mistaken report Saturday that Rep. Gabrielle Giffords had died. NPR executive editor Dick Meyer explained in an apologetic statement that the error was admittedly "serious and grave," and resulted from "a situation so chaotic and changing so swiftly, we should have been more cautious."

It was, Meyer said, an "error of judgment in a fast-breaking situation." It was also, to NPR's credit, immediately retracted, though that is little comfort to Giffords' family and friends who heard the report, or the other news organizations who repeated the mistake, citing NPR.
CNN was one of those networks that repeated NPR's report. It also made an error of its own, twice airing a photo of a young man who the network mistakenly identified as the shooting suspect, Jared Lee Loughner. Again, like NPR, the network corrected its mistake, apologized, and admitted to moving too fast and failing to double check its content before rushing it to air.
CNN senior editorial director Richard Griffiths, who has a reputation at the network for fairness and accuracy, was forced to admit he didn't follow his own rules: "as a news organization, we have to check and recheck and check again."
Have a tip we should know? tips@mediaite.com