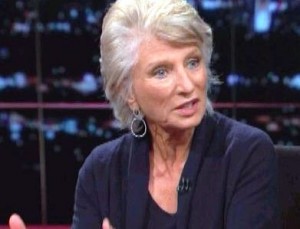 On Friday night's Real Time, host Bill Maher punctuated his dissection of Thursday night's Fox News/Google Republican Presidential Debate with a nasty sexist slam of moderator Megyn Kelly. Recapping one of Kelly's questions, Maher referred to her simply as "the blonde twink."
Former Democratic Congresswoman Jane Harman called Maher out over the remark, prompting him to resort to the familiar, idiotic defense that it'd be sexist for him not to insult Kelly.
You don't have to be a stand-up comic to recognize that Maher's insult was scripted to look like an ad-lib. "The blonde twink asking the questions," he said, pausing for audience reaction (even though there was none), then said, "I'm sorry, Madame Curie…"
He went on to criticize Kelly's framing of a question about public support for taxing millionaires, repeatedly underscoring the fact that he supposedly didn't even know Megyn Kelly's name.
Former Democratic Congresswoman Jane Harman, currently the head of the Woodrow Wilson Center, waited for Maher to finish his question, before calling him out. Referencing Maher's earlier interview with Confidence Men author Ron Suskind, Harman coolly observed, "About the 'blonde female?' We just had Ron Suskind on…whose book was about the treatment of women in the White House."
As Harman tried to point out that she was the only woman on that night's Real Time episode, and that she's also a blonde, Maher interrupted to say, "It's not because she's a woman, it's because she's dumb."
Maher offered the weak defense that nobody ever called him sexist for insulting George W. Bush (because Bush doesn't belong to a group that's been historically dismissed for their gender, genius), then added, "It's actually more sexist to call attention to somebody when I say…I didn't say she's dumb because she's a woman."
Later in the segment, panelist Michael Moore got to the heart of the matter when Maher referenced Kelly again, sarcastically, as "that esteemed woman," to which Moore interjected, "whom you're secretly attracted to…"
In case you don't get it, Bill…oh, I mean Dr. Jonas Salk, your insult was pegged to Megyn Kelly's gender, and based on the premise that she is an interchangeable sex object, unworthy even of a name. She's just another hot Fox News babe with an empty head. The sexism is self-evident, since it would be damn near impossible to make the judgment Maher does without ever learning the person's name.
Maher's comment is wrong on several levels. First of all, there are legitimate reasons to criticize Megyn Kelly, but five minutes of watching her on TV demonstrates that her remarkable good looks are far outstripped by her toughness and intelligence. There's a running joke in media circles about Fox News and vacuous on-air eye-candy (although it's a phenomenon with deep roots throughout TV news), but Megyn Kelly in no way fits that bill. She famously left a nearly decade-long career as an attorney to become a journalist, a courageous move that deserves respect, even from her critics.
But even if she did fit that bill, even if she was simply plucked from the Barbizon catalog to look pretty while reading the news, Maher's remark would have been no less sexist. It is legitimate to criticize someone's qualifications, and even to make the case that their looks are the only thing they've got going for them, but you've got to make that case, and if you peg it to their gender, while not even learning their name, you're guilty of sexism.
This is an issue that has particular resonance for me, because I've seen how this double-standard cuts both ways. In addition to having impeccable journalistic chops, many of my female colleagues also have to be world-class beauties in order to succeed alongside male journalists who, no offense, meet a much lower bar of physical attractiveness. After passing every test, overcoming every obstacle, these women then have to struggle to be taken seriously by people like Bill Maher. His piggish attitude demonstrates that, whatever short-term leg up female journalists gain by being attractive eventually erodes on the actual field of play.
Update: As an amusing sidenote, Newsbusters' Noel Sheppard writes up Maher's misogynistic comment, but in the kind of move his site routinely calls out mainstream outlets for, introduces Jane Harman simply as "former Congresswoman Jane Harman," omitting the fact that she was a Democrat. Only waaay way at the end of Sheppard's commentary (although Harman is identified as D-California in the transcript) does he give any indication of Harman's point of view, saying "Brava to Harman for calling him on it. If only more left of center women would."
C'mon, Noel, you can say it: Harman is a liberal, and you're right, she deserves credit for calling Maher out.
Have a tip we should know? tips@mediaite.com