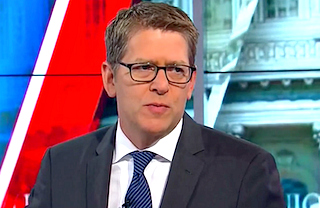 In a new interview with The Hollywood Reporter, newly named CNN contributor Jay Carney identifies the "worst" question he received during his tenure as White House press secretary under President Barack Obama.
"There was one guy, Les Kinsolving, who asked about bestiality," Carney told the Reporter.
Kinsloving was a provocative conservative reporter for World Net Daily and his questions were often blown off by Carney. Kinsloving retired in 2012 but not before asking Carney in 2011 whether Obama approves of bestiality in the military.
Carney added that "there was a lot of ridiculousness over the president's birth certificate that was fueled by [Donald] Trump. A lot of reporters jumped on that knowing it was ridiculous."
And about his debut on CNN wherein Carney took a serious verbal beating from Sen. John McCain (R-AZ):
I was totally fine on the exchange. I disagree with him. He was a fierce advocate for the invasion, a fierce advocate for expanding our forces there, a fierce advocate for keeping them there. In 2008, he said he could easily envision American troops on the ground in Iraq for 100 years. The president ran as someone who disagrees with that — and beat John McCain doing it, pretty soundly. And then he won re-election maintaining that position. The fact is the United States government was actively trying to negotiate with the Iraqi government on a status of forces agreement that would have allowed for residual forces to remain in Iraq. [The Iraqi government] refused to meet the terms of that agreement. And it would have been the height of irresponsibility to leave U.S. men and women in uniform on the ground there without the kind of protections you need from a status of forces agreement. That's just a fact. But that's Senator McCain and that's fine.
[Photo via CNN/screen grab]
— —
>> Follow Eddie Scarry (@eScarry) on Twitter
Have a tip we should know? tips@mediaite.com