Kate Upton Says Donald Trump's Model Management Company Tried To Sign Her At Age 12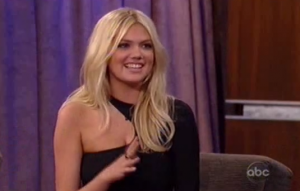 Sports Illustrated cover model Kate Upton was on Jimmy Kimmel Live Tuesday night, discussing how she scaled the heights of the modeling world to become the latest woman to grace the cover of the iconic swimsuit issue.
After heaping some praise on fellow guest Eric Stonestreet and his show, Modern Family, Upton was asked by Jimmy Kimmel how her father handles seeing the issue, with his daughter half-naked on the cover.
"Its got to ruin it a little bit for him, right?" Kimmel asked, imitating her father picking up the magazine: "Sports Illustrated swimsui–oh what the hell!!??"
Upton explained that she began modeling at age 15, but her interest was sparked at age 12, when a model scout approached her as she was leaving a horse show.
"Who scouted you at this time?" Kimmel asked. "And why didn't your father murder him? Scouting 12 year olds…"
"They didn't know I was 12," Upton explained.
"Oh, okay, they thought you were, what, 14?"
Kimmel then asked if she thought it was a scam.
"It was Trump Model Management," Upton said.
"Oh — even worse. Even worse. " Kimmel joked. "It wasn't Donald himself? You know that's how he gets wives."
"I feel like that would be creepy at 12," Upton said. "I'd be scared."
"Donald Trump has a model management company?"
"Yes."
"Wow," Kimmel said. "What does this guy not have his name on? He really is a genius, I guess."
Upton said that she ultimately didn't sign with Trump, but the incident caught her attention, and she moved to Miami a few years later to launch her career.
Watch a clip of the interview below, courtesy of ABC:
Have a tip we should know? tips@mediaite.com