Kirsten Powers Battles O'Reilly: Do You Honestly Believe IRS Head Was 'Scheming' Against The Tea Party?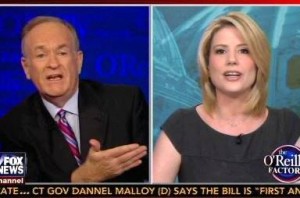 Bill O'Reilly and Kirsten Powers got into a heated back-and-forth tonight over why former IRS commissioner Douglas Shulman visited the White House over 150 times, when members of President Obama's cabinet only visited a few dozen times. Powers quashed O'Reilly's argument as not being based in any actual evidence, asking him how he can really think that the head of the IRS went to the White House that many times just so they could scheme against tea party groups.
Powers downplayed the seriousness of Shulman's visits, calling it "a little disingenuous" since getting waived in doesn't necessarily mean Shulman attended meetings every single time. O'Reilly insisted it's still odd because he got waived in far more than, say, Hillary Clinton or Leon Panetta.
RELATED: O'Reilly Grills Bob Beckel: Why Are You Giving Obama Benefit Of The Doubt On IRS Scandal?
Powers argued that Obamacare could explain Shulman's frequent visits, since the White House could have had regular meetings on health care policy involving the IRS, and also shot down O'Reilly's comparison to cabinet members. O'Reilly allowed that Obamacare meetings could have been a reason, but "not [for] that many times." Powers continued insisting, "It's a bad comparison."
Powers said the health care law would has "so many implications for taxes," but O'Reilly told her that she's just making "tortured logic." Powers asked O'Reilly how he could seriously think these meetings were all about targeting tea party groups. O'Reilly argued that there's enough "circumstantial evidence" to suggest the visits may have resulted from the tea party sweep in 2010.
Powers told O'Reilly that he shouldn't be trying to pin this on the White House where there's "not a shred of evidence." O'Reilly shot back, "I can't believe I'm hearing this from you!" Powers said she just found it a considerable leap to imagine Shulman was "scheming against the tea party" with all his White House visits.
Watch the video below, courtesy of Fox News:
—–
Follow Josh Feldman on Twitter: @feldmaniac
Have a tip we should know? tips@mediaite.com
Josh Feldman - Senior Editor