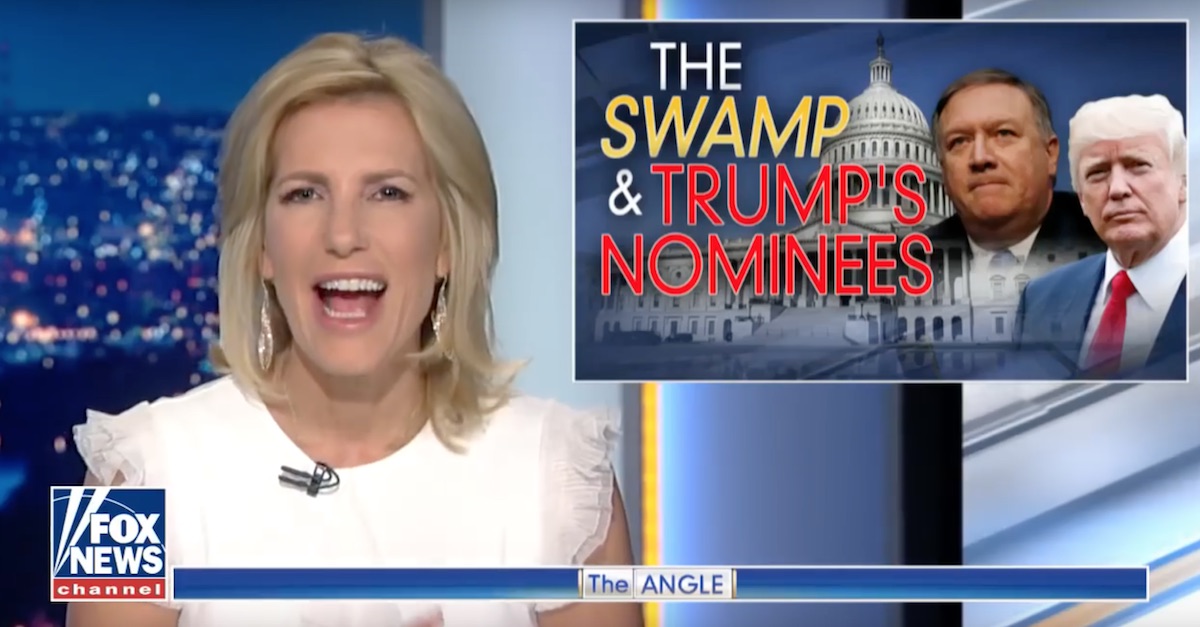 Fox News is trumpeting monster ratings for Laura Ingraham's nightly program, which had its best month on record in June — despite a series of controversies that cost her advertisers.
According to Nielsen, The Ingraham Angle's total viewership climbed to 2,654,000 in the second quarter of this year — with 544,000 of those in the key 25-54 demographic, those ratings being the highest since the show's launch in October 2017.
Her timeslot rivals trailed behind. MSNBC's Lawrence O'Donnell notched 2,102,000 in total viewers and 419,000 in the demo, and CNN's Don Lemon notched 882,000 total with 311,000 in the demo.
The numbers may be unexpected in light of widespread backlash against Ingraham for her controversial statements. She suffered a near-fatal advertiser boycott after mocking Parkland shooting survivor David Hogg on Twitter. More recently she faced criticism for likening immigrant detention centers to summer camps.
Both incidents prompted big name advertisers to pull out of the show in condemnation of her behavior. Following Ingraham's taunting of Hogg for his college acceptance rejections, a list of companies including Wayfair, TripAdvisor, Nestle and Hulu decided to yank commercials from the program. However, certain companies initially involved in the boycott eventually returned. Ingraham's remarks on detention centers cost her the show's second largest advertiser, IAC, which represents HomeAdvisor and Angie's List.
That has done little to hobble the rise of Ingraham's ratings, however. For the second quarter of 2018, her show ranked third on all of cable news — a ways behind Fox News's 9 p.m. juggernaut Sean Hannity, but nipping at the heels of MSNBC's Rachel Maddow.
Maddow, MSNBC's primetime crown jewel, notched 2,752,000 in total ratings and 559,000 in the demo. Hannity continued its reign as the most watched show in cable news, with 3,368,000 in total viewers and 685,000 in the demo.
[Image via screengrab]
Follow Amy Russo on Twitter: @amymrusso
Have a tip we should know? tips@mediaite.com