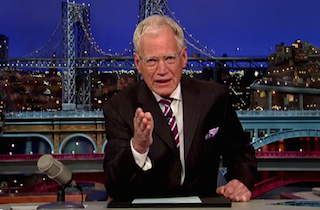 Apparently, even a comic legend like David Letterman can have an off night. The Late Show host was one of many high-profile comedians who appeared at the Apollo Theater Wednesday night to pay tribute to 87-year-old Don Rickles for Spike TV's "One Night Only" special set to air May 28, and in a preview from tonight's show, he claims he totally bombed.
"Don't ever invite me to any kind of function," Letterman said into the camera. "I'm not coming to your function. It was humiliating."
"I want to apologize to Don Rickles and his family, everyone who was in attendance, the producers of the event," he continued. "I'd like to apologize to everyone at the Apollo Theater and the audience, except for Harvey Weinstein. I could care less what he thinks. But other than that, it was God awful."
Letterman went on to compare the experience to a time he had to speak at a friend's funeral and broke out crying… because he had no material. He knew he wasn't doing well because Robert de Niro sat there completely mute while he was doing his bit.
RELATED: Comedian Don Rickles Takes a Shot at Jimmy Fallon on Letterman
It was Letterman's honor to introduce Rickles, but that meant he had to follow the "wrecking crew" that was Tina Fey and Amy Poehler. He blamed his failure on getting too accustomed to his role on the Late Show. "I can't leave the building," he said. "I've been made so comfortable here in this position, I go someplace else, it never works."
The special doesn't air for another few weeks, so we will all have to wait until then to find out how bad it really was.
Watch video below, via CBS:
[Photo via screengrab]
— —
>> Follow Matt Wilstein (@TheMattWilstein) on Twitter
Have a tip we should know? tips@mediaite.com