Lou Dobbs: Obama "Has Expressed A Very Loathsome View Of The American People"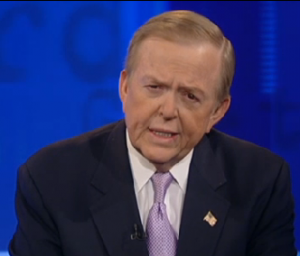 In yesterday's press conference, President Obama had much legislative success to be pleased with, but also discussed his "biggest disappointment" – failing to pass the DREAM Act (Development, Relief and Education for Alien Minors Act). Enter Lou Dobbs on last night's On the Record with Greta Van Susteren, who came out with guns blazing, referring to Obama's actions on illegal immigration as "nonsense" and "madness," and who alleged the Obama administration was displaying "ignorance" and "demagoguing the issue." With talk like this starting to heat up, it looks like we have a preview of the next big potential issue in 2011.
What angered Dobbs most about Obama (and President Bush too) is his failure to adequately secure the border. Dobbs would be open to compromise on dealing with the immigrants who are already here illegally, but only after the border is adequately protected. That position is certainly sensible, but Dobbs' intense passion on the issue drives him to unnecessarily ratchet up the rhetoric, telling Greta "the President, as you know, has expressed a very loathsome view of the American people and this country when he challenges the state of Arizona in court because they want to stop illegal immigration."
Greta is justifiably frustrated that everyday Americans have to wait in lines for hours at airports to get back into this country when returning from vacation, yet crossing the Mexican border requires much less hassle. Dobbs agreed, but focused his anger towards Obama for trying to "game the political system" with the DREAM Act that emotionally focuses on "the kids" without addressing the real concerns of Americans.
Dobbs final words of advice to Obama:
If [Obama's] sincere in wanting to do something for the kids, he'll start doing something for the American people and the citizens of this country first [including securing the border and ports, and enforcing immigration law]. . . . The more the President speaks in those artful, emotional tones, the less credibility he has and the farther away he is from achieving the trust of the American people.
Watch the clip from Fox News below:

Have a tip we should know? tips@mediaite.com