Marco Rubio and Bernie Sanders Brawl over Need for Law Holding VA Accountable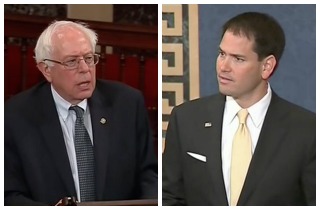 On Thursday, in the wake of the scandalous revelations surrounding the VA, the House passed the VA Management Accountability Act. That law would provide Veterans Affairs Department managers with a means of removing VA administrators judged incompetent from their posts. During a debate on that law in the Senate, Sens. Marco Rubio (R-FL) and Bernie Sanders (I-VT) sparred over whether the law was necessary or if broader reforms were needed.

Responding to Rubio, Sanders said that the VA has many problems, not merely those regarding the covering up of wait times which may have led to deaths. He said that access to education, sexual assault, and other issues should be a part of broad VA reform.
"I am very glad that my Republican colleagues are now beginning to focus on veterans' issues, and we need to step up to the plate to help not only our veterans but their families," Sanders said, objecting to the VA Management Accountability Act. "We are going to hold a hearing on that legislation and other legislation in early June."
RELATED: Jay Carney: Obama First Learned About VA Scandal in the Media
Rubio replied by saying that he agreed that the VA's issues should not be politicized, and noted that he has not called for the resignation of VA Sec. Eric Shinseki. "I'm not claiming this was created by the Democrats or other party," Rubio said. "This issue may become politicized in the sense that it seems that all of the reluctance to move forward on it is coming from one side of the equation but that does not necessarily have to be."
He added that the bill would pass the upper chamber of Congress by an overwhelming majority, as it did in the House, if the leadership would bring it up for a vote.
"I don't' think that any of us want to go home for the Memorial Day recess and when we're asked 'What are you doing on this issue,' our answer is, 'Well, in about 15 days we're going to have a hearing," Rubio concluded.
Watch the clip below, via C-SPAN:
[Image via screengrab]
— —
>> Follow Noah Rothman (@NoahCRothman) on Twitter
Have a tip we should know? tips@mediaite.com