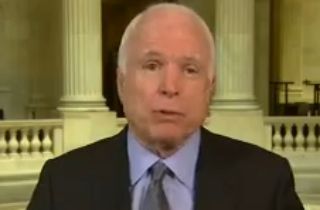 During his interview with Bill O'Reilly, John McCain talked about how even though Donald Trump dismissed his war heroism while continuing to embroil himself in controversy, he understood why the 2016 plutocrat was resonating with voters as he is. McCain recognized that there were people in his state and all over the country who were frustrated with the immigration crisis, and saw Trump's rhetoric as a solution.
Afterwards, O'Reilly got to the origin point for Trump's controversial statements by asking McCain to elaborate on his labeling of Trump's supporters as "crazies," and whether he had any regrets about that. To that, McCain said that he said that in jest, and that such talk was not terribly uncommon.
"I have town hall meetings all over Arizona. A guy stands up and says you are crazy, I view it as a term of endearment," McCain said:
"Everybody in my state is entitled to their views. a lot of them are from other places and they enjoy the give and take with them. If anybody was offended, then certainly I'm sorry. We have a pretty rough and tumble game that we play in politics in Arizona."
McCain finished by saying that everyone was entitled to their own opinion, even towards himself, but that such dialogue was not unusual. He said that he is called "crazy" all the time, and challenged O'Reilly to deny that he ever heard the same. Jokingly, O'Reilly agreed.
You can watch the segment here:
[image via screengrab]
— —
>> Follow Ken Meyer (@KenMeyer91) on Twitter
Have a tip we should know? tips@mediaite.com