Mike Lee Mocks Green New Deal on Senate Floor With Pictures of Aquaman, a Tauntaun, and Reagan Riding a Dinosaur
Senator Mike Lee (R- UT) mocked the Green New Deal on the Senate floor today with pictures of Aquaman, Star Wars, and Ronald Reagan brandishing a machine gun while riding a dinosaur.
Yes, really.
Lee said he would talk about the Green New Deal "with the seriousness it deserves" before teeing up "a picture of former President Ronald Reagan, naturally firing a machine gun while riding on the back of a dinosaur."
"This image," he said, "has as much to do with overcoming communism in the 20th century as the Green New Deal has to do with overcoming climate change in the 21st."
And that was only just the beginning, before he showed off more visuals, including Luke Skywalker riding a Tauntaun and Aquaman riding a seahorse.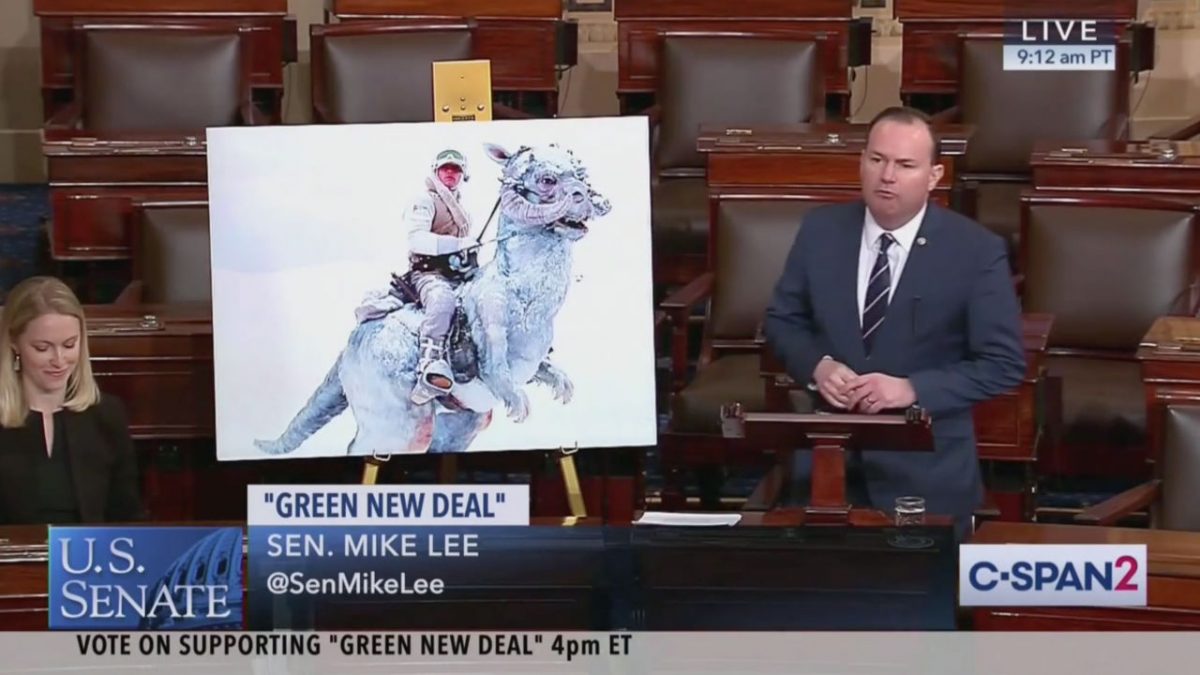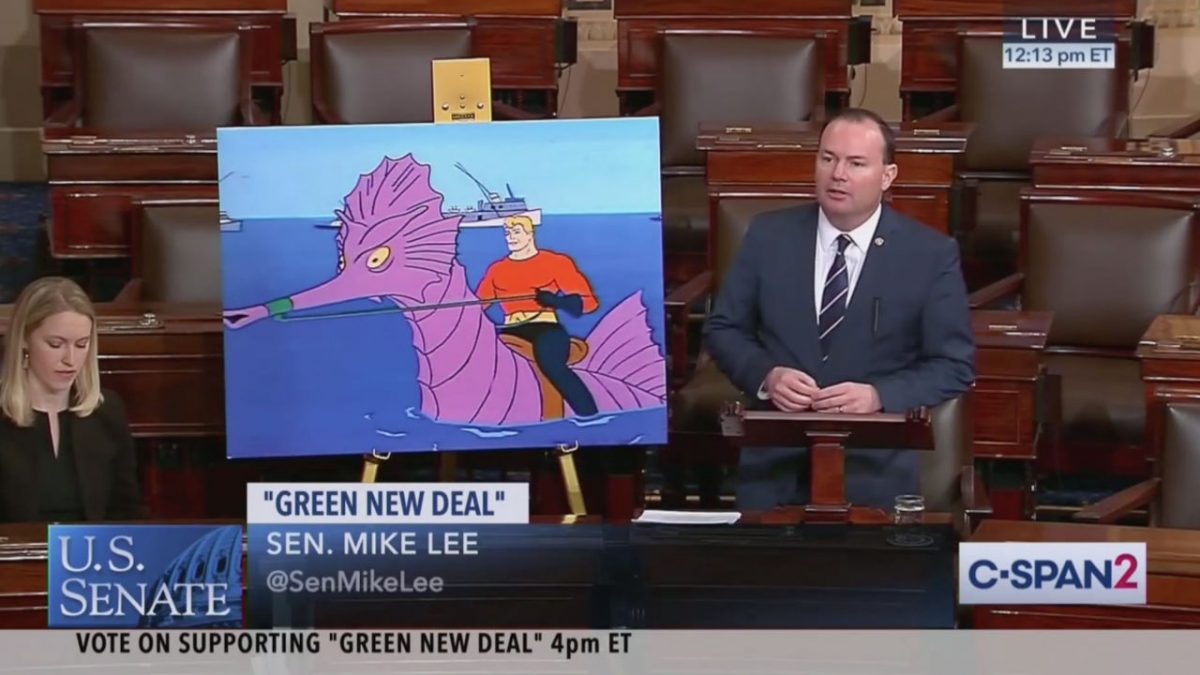 Lee also made a mocking reference to Sharknado before saying, "Climate change is no joke, but the Green New Deal is a joke. It is the legislative equivalent of Austin Powers' Dr. Evil demanding sharks with frickin' lasers on their heads."
After Lee's speech got some attention on Twitter, both Congresswoman Alexandria Ocasio-Cortez (D-NY) and Mark Hamill responded:
GOP Senators are using their Congressional allowances to print Aquaman posters for themselves to argue that a #GreenNewDeal saving our nation from climate change is a 'waste of money' ? https://t.co/iMNY0dJmCy

— Alexandria Ocasio-Cortez (@AOC) March 26, 2019
Like many other women + working people, I occasionally suffer from impostor syndrome: those small moments, especially on hard days, where you wonder if the haters are right.

But then they do things like this to clear it right up.

If this guy can be Senator, you can do anything. https://t.co/vU4ChbTnnr

— Alexandria Ocasio-Cortez (@AOC) March 26, 2019
Please tell me this is photoshopped. ?#CongressionalTauntaunPawn https://t.co/oDIuw2bd6x

— Mark Hamill (@HamillHimself) March 26, 2019
I was foolish to think this was photoshopped. Had I recognized that this guy was a Republican, I would have instantly realized this was his argument against Global Warming. ❄️?️☃️ #CongressSmellsBadOnTheInside https://t.co/Ofbk1h7GxM

— Mark Hamill (@HamillHimself) March 26, 2019
You can watch Lee's speech above, via C-SPAN 2.
[image via screengrab]
Have a tip we should know? tips@mediaite.com
Josh Feldman - Senior Editor