Motorcycle Stunt Rider Leads Cops on Terrifying High-Speed Chase Because YOLO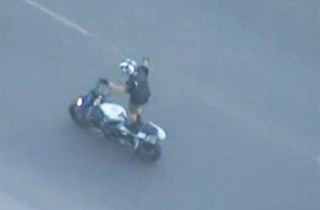 A California man on a motorcycle led police on the most terrifying car chase in recent memory, doing insane things like nearly running into cars, speeding at 100 mph down a city street, and standing on his bike to flip off his pursuers.
NBC LA's cameras followed the high-speed chase through the streets of Ontario, CA, and caught suspect Philip Resendez pulling stunts, taunting officers, and, at one point, stopping in a nice cul-de-sac to adjust his earbuds before nearly clipping a police car's side door. (Did we mention the part where he stood on his bike multiple times to give everyone the finger?)
Eventually, he pulled into a gas station, where he was met by press and a group of cheering/terrorized onlookers, and arrested by some not-too-happy cops. No, Resendez wasn't on the run because he robbed a bank, he was doing it because YOLO or something:
After Resendez, who was booked for driving on the wrong side of the road and failure to yield, was captured he complained about how police acted during the chase.

"Did he (police officer) seriously have to try and kick me off my bike?' Resendez said.

He also apologized to his baby daughters saying he was sorry he had "put them in the middle of all of this."
Putting aside Resendez's obviously illegal and dangerous behavior, in terms of helicopter footage of car chases, this ranks above OJ's White Bronco incident and just below Llamas on the Lloose.
Watch the report below via NBC LA:
And here's some raw footage of the man's insanity:
[NBC LA]
[Image via screenshot]
—
>> Follow Tina Nguyen (@Tina_Nguyen) on Twitter
Have a tip we should know? tips@mediaite.com