MSNBC Contributor Eugene Robinson On Rick Santorum's 'Weird' Reaction To Death Of Newborn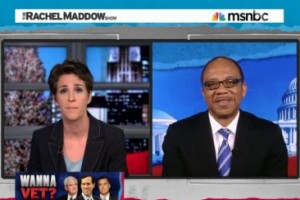 On Wednesday night's The Rachel Maddow Show, the story of how Rick Santorum and wife Karen dealt with the loss of their newborn son Gabriel again became fodder for criticism of Santorum's presidential prospects. Although he handled it in a marginally more delicate fashion than Alan Colmes did (for which he apologized), MSNBC contributor Eugene Robinson cited the incident as a "weird story" that might put off some Republican voters.
Host Rachel Maddow began the segment (you can watch the whole thing here) by detailing many of the questionable things that have yet to become the focus of Santorum coverage, including his involvement in the John Ensign scandal, and wondered if Santorum would be subjected to the same media vetting as the previous 73 GOP frontrunners from this year. Maddow then brought Robinson on, and asked him if any of his extreme social positions (banning contraception, banning abortion even in cases of rape and incest) might "hurt him among Republicans?"
Referencing an earlier clip from Greta Van Susteren's On The Record, Robinson said "we`ll see Greta was wrong. He's not a little weird. He's really weird."
"Some of his positions he's taken are just so weird," he continued, "that I think some Republicans are going to be off-put. Not everybody is going to be down, for example, with the story of how he and his wife handled the stillborn child whose body they took home to kind of sleep with and introduce to the rest of the family. It's a very weird story."
To clarify, the Santorum's baby was not "stillborn," but rather, died two hours after being born. Here's what happened:
The childbirth in 1996 was a source of terrible heartbreak — the couple were told by doctors early in the pregnancy that the baby Karen was carrying had a fatal defect and would survive only for a short time outside the womb. According to Karen Santorum's book, "Letters to Gabriel: The True Story of Gabriel Michael Santorum," she later developed a life-threatening intrauterine infection and a fever that reached nearly 105 degrees. She went into labor when she was 20 weeks pregnant. After resisting at first, she allowed doctors to give her the drug Pitocin to speed the birth. Gabriel lived just two hours.

What happened after the death is a kind of snapshot of a cultural divide. Some would find it discomforting, strange, even ghoulish — others brave and deeply spiritual. Rick and Karen Santorum would not let the morgue take the corpse of their newborn; they slept that night in the hospital with their lifeless baby between them. The next day, they took him home. "Your siblings could not have been more excited about you!" Karen writes in the book, which takes the form of letters to Gabriel, mostly while he is in utero. "Elizabeth and Johnny held you with so much love and tenderness. Elizabeth proudly announced to everyone as she cuddled you, 'This is my baby brother, Gabriel; he is an angel.' "
As I've said before, the fact that Karen Santorum publicized the event means that, to some extent, it is an appropriate subject for public discussion. For example, the notion that Gabriel's story is relevant to the abortion rights debate is something that can be legitimately challenged, but even then, it should be handled in a delicate, respectful manner. I have heard liberals mock the Santorums' expression of grief cruelly in the past, and while Eugene Robinson wasn't necessarily cruel, there's something seriously wrong with his premise.
While the Santorums' actions were certainly different, to call them "weird" is to act as if there are ways of dealing with the dead that aren't weird. We sew their eyes and lips shut, pump them full of chemicals, out them into elaborate boxes that we'll never see again, and sometimes build little stone houses to keep them in.
I'm not a particularly religious person (you could call me agnostic), but when my father died, I stayed with his body in the hospital room for a good two hours, talking to him, holding him, and even freaking out a little every time he twitched, convinced the doctors might have screwed it up. After he was cremated, my brother and I scattered his ashes at Sandy Hook, and the wind there absolutely coated me, Big Lebowski-style, in his ashes. It was comical and horrifying, and it wouldn't be a stretch to call it "weird."
In Rick Santorum's case, his family was dealing with a gut-wrenching tragedy, and along with it, a heart-rending decision. They don't deserve to be judged as "weird" for their actions here any more than anyone else. By the same token, Santorum probably shouldn't judge others who are making gut-wrenching decisions, like whether to carry a child after a rape, or when a late-term complication could leave a mother's other children orphaned, or even whether they can marry the person they love.
Here's the clip, from MSNBC's The Rachel Maddow Show:
Have a tip we should know? [email protected]