Iowa Caucus Coverage: MSNBC, Fox News, CNN Vary On Having Opinion Hosts Anchor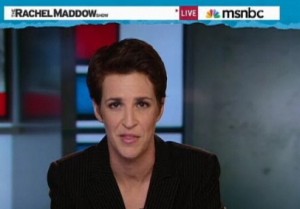 Tuesday night's Iowa Caucus coverage will offer a wide array of television choices for every taste in cable news, with some channels opting for more entertainment than analysis. While Fox News and CNN are seeking some of their more buttoned up journalists for anchoring duties, and are pushing their more partisan/entertainment-focused anchors to post-coverage specials, MSNBC is pretty much giving up on the straight news coverage, and instead appears to be aiming to create some controversy… and maybe have some fun.
And it just might work.
First, the lineups:
Fox News (8 p.m. – 11 p.m.) Bret Baier and Megyn Kelly will anchor. Carl Cameron, Steve Brown, Shannon Bream, and John Roberts will contribute. A post-show will be hosted by Sean Hannity, followed by a second show, hosted by Greta Van Susteren. Fox Business Network, by the way, will have Neil Cavuto anchoring a show that features appearances from Herman Cain and Donald Trump.
MSNBC (6 p.m – midnight): Rachel Maddow will be the main anchor. Chris Matthews, Ed Schultz, Lawrence O'Donnell, and Rev. Al Sharpton will contribute. Chris Hayes will host the post-show.
CNN (7 p.m. – midnight): Wolf Blitzer, Anderson Cooper, and Erin Burnett will anchor. They'll be joined by Candy Crowley, John King, Gloria Borger, David Gergen, James Carville, Ari Fleischer, Dana Loesch, and Roland Martin. Piers Morgan will host a post-show beginning at midnight.
While MSNBC's decision to go with Maddow — who's more an advocate than a "capital 'J' journalist" — may ruffle some feathers with traditionalists looking for typical newspeople to go over the results, it's also hard to deny that their lineup may become the most fun. Five very strong personalities, all left-leaning (to various degrees), will be breaking down the Republican Iowa Caucus results — which are shrouded in mystery and can go several different ways. While CNN will trot out an army of analysts with at least two centuries of news and political experience under their combined belts, and Fox News will bring out your archetypal journalist (Baier) and news host (Kelly), MSNBC is featuring every star they have. Remember, this is coverage of a quirky caucus — not even a straight primary — during the first week in January.
In short, MSNBC's move may offer a perfect complement to the other networks. For the old-school political die-hard, CNN's crew of thousands will be able to analyze anything you can think of, from the right, left, or middle. And Fox News is trying to appear to have a more traditional presentation. MSNBC, meanwhile, seems to have thrown objectivity to the wind, and that could be a lot of fun. We'll know by Wednesday afternoon where the viewers went, but if MSNBC's team of entertaining hosts does well in the ratings, don't be surprised to see the formula repeated throughout the primary season.
Have a tip we should know? [email protected]