NBC News Interviews Greenwald with Questions from Social Media, Not David Gregory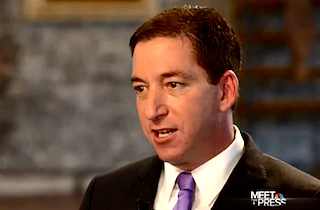 The last time Glenn Greenwald appeared on Meet the Press, things ended poorly for David Gregory. On Sunday morning, Greenwald appeared on the show for the first time since the contretemps, though NBC put two layers between Greenwald and Gregory, having justice correspondent Pete Williams conduct the interview and fielding the questions from social media.

Greenwald told HuffPost Live he was disappointed Gregory wouldn't be conducting the interview, as he was curious how the host's approach may have changed since last summer. Alas.
The most pointed question asked how Greenweld reconciled his comparison of NSA leaker Edward Snowden to Pentagon Papers leaker Daniel Ellsberg, given that Ellsberg stayed to face trial while Snowden fled the U.S. and eventually defected to Russia. He quoted Ellsberg's op-ed arguing that the justice system had become considerably harsher toward whistleblowers. "If Edward Snowden were to go on trial, he would be rendered incommunicado, he would not be released on bail, he couldn't argue his case to the public," Greenwald said.
Greenwald also got a question about potential legislative fixes to the NSA abuses he and Snowden revealed.
"One of the most encouraging aspects of the story has been that there has been a complete breakdown in the traditional, standard divisions between left and right or conservative and liberal, Republican and Democrat," he responded. "There has been this extremely inspiring bipartisan coalition that has emerged that has demanded that there be constraints imposed on the NSA."
Watch the clip below, via NBC News:
[Image via screengrab]
——
>> Follow Evan McMurry (@evanmcmurry) on Twitter
Have a tip we should know? [email protected]