O'Reilly And Beckel In Tense Battle Over Obama's Handling Of Ex-Marine In Mexican Jail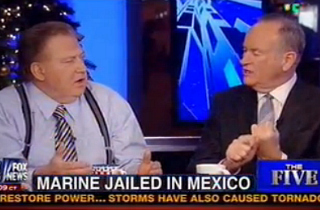 Bill O'Reilly made a guest appearance for the first two segments of today's The Five and things got rather tense between him and liberal co-host Bob Beckel when the subject turned to whether or not the Obama administration is trying hard enough to free ex-Marine Jon Hammar from a Mexican jail.
Hammar has been jailed since August when Mexican authorities arrested him on federal charges of possessing his grandfather's antique shotgun. O'Reilly has been trumping the story nightly to try and pressure federal officials into doing more to get the man out of jail. He has threatened to lead an anti-Mexico boycott if the story isn't resolved in the coming weeks.
The Five's conservative members railed against the president for not handling the situation with immediacy. Beckel took issue with that characterization, brushing back against O'Reilly specifically: "You don't think the government is trying their damnedest to get him out of there? There are thousands of American prisoners in Mexico."
"Not like this," O'Reilly shot back. "This is egregious. He had paperwork, brought it to the Mexicans and they grabbed him for extortion purposes. Behind the scenes I assume [Obama officials] are doing what they should do. But should they have made a public statement before this time? Yes, they should. That is what leaderslip is. You're commander-in-chief, you have don't let a guy chained to a bed."
O'Reilly later added: "We had the parents on last night. The State Department tells the parents, 'We can't do anything.' But we have a scientist in jail in pakistan for 30 years. This guy helped us get bin Laden. What have the government done about that? Nothing."
"That's not right," Beckel retorted. "They've gone to the ISI and they tried to get him out."
"Who is they? Who went to ISI?" O'Reilly asked.
"I assume the CIA," said Beckel.
"You assume a lot," O'Reilly snarked back, sending the conversation into a shout-fest.
"You're assuming something," Beckel shouted.
"I'm not," O'Reilly shouted. "I'm a fact-based guy. Have we seen Hillary Clinton say anything publicly? Seen the president say anything publicly? No. That is the fact."
"You think saying something publicly is policy?" Beckel asked.
"So leadership is not saying anything and allowing people to assume we're doing something? That's Bob Beckel's leadership. Let's hear it for him," O'Reilly responded by mock-clapping the liberal co-host. Beckel shot back that it's unfair for him to assume the Obama administration is doing nothing to fix the situation.
"I want leadership and clarity. We are not getting it," O'Reilly pointedly responded. "If you assume they are doing something, fine. That is not a fact. The fact is no clarity and no public statements. Two guys rotting in prison who shouldn't be. That is the fact, Jack."
"You are assuming," Beckel snapped back. "Jack? It's Bob."
Watch the battle below, via Fox:
— —
>> Follow Andrew Kirell (@AndrewKirell) on Twitter
Have a tip we should know? tips@mediaite.com