Palin Jabs O'Reilly for Suggesting She Would Make 2016 Race a 'Reality Show'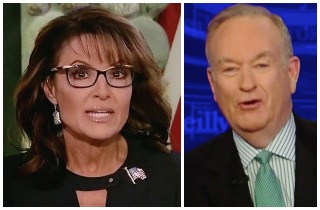 If you tuned into Fox News earlier today, you may have noticed a brief Bill O'Reilly promo that mentioned Sarah Palin. O'Reilly teased 2016 talk on tonight's Factor by bringing up Palin, Donald Trump, and Chris Christie to say all of that in a presidential race might turn the whole affair into a "reality show."
(And yes, before you ask, Palin is currently still a contributor for Fox.)
During his show, O'Reilly only briefly mentioned Palin in passing, along with Trump, saying she'll have a very uphill climb in putting together the kind of serious national organization the other candidates have.
Palin appeared on Fox just hours later, chatting with Sean Hannity about her 2016 ambitions. She spoke of conservative unity and admitted the right hasn't been quite as united as it could be.
And that's when Palin observed that this is a problem on Fox News, which she described as "a quasi––or assumed––conservative outlet." She brought up O'Reilly chuckling at her and Trump making things a "reality show" and said he can yuk it up if he wants, but "this is war."
Palin elaborated, "Hopefully the media, even the quasi-right side of the media, won't be looking at this as some kind of reality show."
Palin did not address whether her inclusion in the 2016 race specifically would make it a reality show.
You can watch Palin here, via Fox News:
And you can watch the aforementioned O'Reilly promo here, also via Fox:
[image via screengrab]
— —
Follow Josh Feldman on Twitter: @feldmaniac
Have a tip we should know? tips@mediaite.com
Josh Feldman - Senior Editor