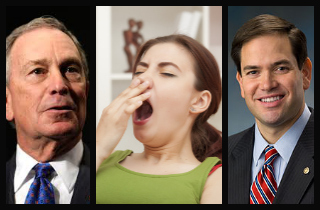 Judging from the tone of the conversation in the media and inside the Beltway surrounding efforts to enact comprehensive immigration reform and stricter gun laws, one could be forgiven for assuming that either of these issues were legislative priority for Americans. Multiple polls have confirmed, however, that they are not. The latest, a Gallup poll, shows that only 4 percent of Americans view guns or gun control or immigration reform as a priority for lawmakers.

RELATED: WATCH: New Pro-Gun Control PSA Puts The Second Amendment In Sharp Perspective
A Gallup poll of 1,005 adults, taken from April 4 – 7, shows that Americans' top priorities remain the economy and unemployment. Essentially unchanged from February, 24 percent of Americans rate the "economy in general" as their top priority. This is followed closely by unemployment, which 18 percent of Americans rate as the "most important problem facing the country." That has increased from 16 percent in March, possibly as a result of the lackluster jobs report that month which showed the economy adding only 88,000 new jobs and nearly half a million Americans leaving the workforce.
"Dissatisfaction with government" and the federal debt and deficit follow as issues Americans think are the most important. Healthcare and "ethical/moral/family decline" rank highly on Americans' list of priorities as well. Tied with "education" and the crisis on the Korean peninsula are guns and immigration on list of public legislative priorities.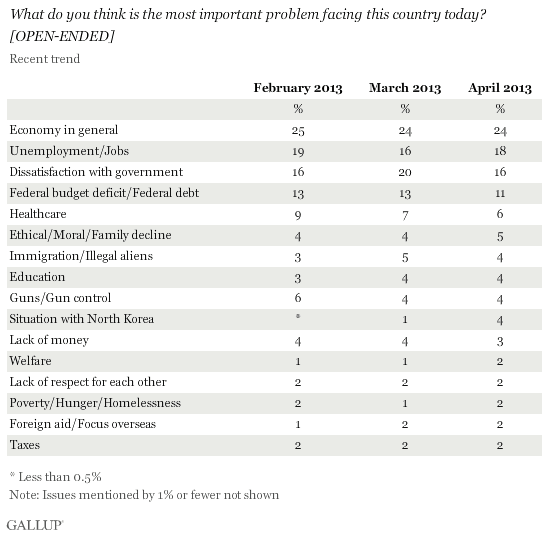 These findings dovetail with a poll from Pew Research Center from January which showed that, of 18 issues, Americans ranked immigration and gun control 14th and 15th respectively.
The battle over immigration reform in Congress is only just beginning and voters minds may yet focus on the issue in the coming weeks, but gun control has been a topic of nightly discussion on virtually every major news network for more than four months. If it is not a priority for Americans today, it is unlikely to become one anytime soon.
Here, gun control advocates will find their fatal miscalculation. Congress appears unable to pass even a modest tightening of the nation's gun laws in the wake of the Newtown massacre, and gun control advocates have turned to cursing Congress and wishing the Malocchio of the voters' revenge on their ideological foes. Gun control advocates cite the sky-high public approval that an augmented background checking regime for gun purchasers receives in polls to support this claim. But gun control advocates refuse to reconcile the public support that some new proposals enjoy with the fact that they are simply not a priority for voters.
If gun control, or the lack thereof, is an issue in 2014, it will be a local one and the tone will vary greatly from district to district and state to state. There will be as many negative ads attacking candidates for opposing new gun laws as there will be ads attacking candidates for supporting them. Gun control advocates who hope to nationalize the issue come next year will find that accentuating Congress' misplaced priorities is nearly certain to backfire on incumbents.
Voters are of two minds when it comes to new gun laws. Neither gun control nor gun rights advocates have adequately internalized the contradictory polling. The issue could still cut either way as the pace of midterm election cycle campaigning accelerates. But those legislators that cast their votes against new gun laws are on firmer ground than many in the media seem willing to admit.
[photo via Shutterstock]
— —
> >Follow Noah Rothman (@NoahCRothman) on Twitter
Have a tip we should know? tips@mediaite.com