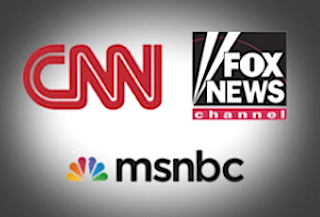 The first two Republican presidential primary debates, held in August on Fox News and then on CNN in September, helped those cable news networks achieve some of their highest ratings in years. They did nothing, however, to help the still-struggling MSNBC, which fell to third place across all major metrics.
Below are highlights from all three networks for July-September 2015.
—
Fox News
Thanks to the record-smashing ratings for the first GOP debate on August 6, Fox News was the #1 basic cable network for a full quarter for the first time in history during Q3, coming out ahead of ESPN, USA, TNT and others.
In primetime, Fox News averaged 1.952M total viewers (up 10% from Q3 2014) and 395K in the 25-54 demo (up 28% from Q3 2014).
The O'Reilly Factor remained the top-rated show on Fox's schedule and cable news as a whole in total viewers, averaging 2.870M, giving the show its best quarter since Q4 2012. The Kelly File came in second with 2.531M and The Five was third with 2.009M.
For the first time ever, The Kelly File was the highest rated cable news show in the 25-54 demo for a full quarter with 509K viewers, partly due to a special 11 p.m. ET broadcast following the August debate (not counting that show, Megyn Kelly came in second). Bill O'Reilly was a close second with 503K and Hannity was third with 385K.
—
CNN
The battle for second place was easily won by CNN, which came out ahead of MSNBC in every major metric during Q3 2015, partly thanks to the September GOP debate that delivered the network its highest rating ever.
Compared to a year ago, CNN saw by far the biggest gains of the three major networks. Averaging 814K total viewers in primetime, CNN was up 47% compared to Q3 2014 and with 251K in the 25-54 demo, it was up 36% compared to the same period last year. CNN also narrowed its primetime gap with Fox News to its smallest point in more than six years.
Anderson Cooper 360 remained CNN's highest rated primetime show, averaging 203K in the demo and growing 11% in total viewers compared to last year. And for the fifth consecutive quarter, CNN's New Day topped MSNBC's Morning Joe in the demo.
Perhaps most significantly, CNN actually beat Fox News in the primetime demo for the month of September when its GOP debate aired. The last time CNN was #1 in the demo for a month was February 2008.
—
MSNBC
With its big daytime changes kicking in mid-September, and without a major debate to help boost viewership, MSNBC did not have much good news to share at the end of Q3. Sinking to third place across the board, it was the only network to see its demo ratings drop compared to Q3 2014.
In primetime, MSNBC's average total viewers increased by 13% to 625K, but its demo viewers dropped 7% to 140K, putting it behind CNN by more than 100K in both categories. In total daytime coverage, MSNBC was also up in total viewers, by 14% to 375K. But it was down 5% to 92K in the demo.
Despite CNN's overall success in primetime, four MSNBC shows still managed to come out ahead of anything on CNN in total viewers, including The Rachel Maddow Show, which was the highest rated non-Fox show, averaging 917K total viewers.
One small glimmer of hope for MSNBC came during Brian Williams' special coverage of Pope Francis' visit to the U.S. last week, marking Williams' long-awaited return to air. During the 9 a.m. – 12 p.m. ET block on Thursday, September 24, MSNBC beat CNN in the demo, drawing the network's biggest demo audience for those hours since the Boston Marathon bombing coverage on April 19, 2013.
—
Here is the full breakdown for Q3 2015:
PRIME TIME395251140
TV NEWS RATINGS: 25-54 DEMOGRAPHIC (L +SD)
TOTAL DAY
211
143
92
Data by Nielsen Media Research. Live and same day (DVR) data.
PRIME TIME1.952814625
TV NEWS RATINGS: TOTAL VIEWERS (L +SD)
TOTAL DAY
1.090
488
375
Data by Nielsen Media Research. Live and same day (DVR) data
[Photo via screengrab]
Have a tip we should know? tips@mediaite.com