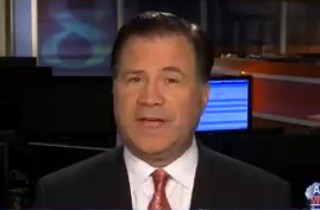 Over the past few days, Donald Trump said that if Hillary Clinton is going to play the "woman card," then it is fair game for him to go after Bill Clinton's controversial history as a reflection of his record with women.
On America's Newsroom, Eric Shawn asked radio host Lars Larson and Fox contributor Leslie Marshall whether Trump's dig at the former president's sordid personal history was appropriate. Larson said it was because it illustrates how Hillary Clinton lies to the public.
"Her husband was impeached for lying to the American public, we worry when there are enablers to those liars," Larson said. "Hillary Clinton has been enabler to her husband who has been a serial harasser and unindicted rapist on top of that, yes of course it is relevant."
Shawn pointed out that Larson's claims were based mostly on alleged actions, and Marshall said she found it offensive that Clinton has been dragged down by her husband's transgressions when she is the one running for president. She also added that Hillary Clinton wasn't responsible for what happened, and that the details of the Clintons' marriage are their own business.
Larson responded that Clinton's repeated defense of her husband "effectively enabled his ongoing behavior," and that bringing up the scandal is relevant because she tried to soft-pedal her husband's lies on top of her own. Marshall dismissed this as "desperation at its finest from the GOP."
Watch above, via Fox.
[Image via screengrab]
— —
>> Follow Ken Meyer (@KenMeyer91) on Twitter
Have a tip we should know? tips@mediaite.com