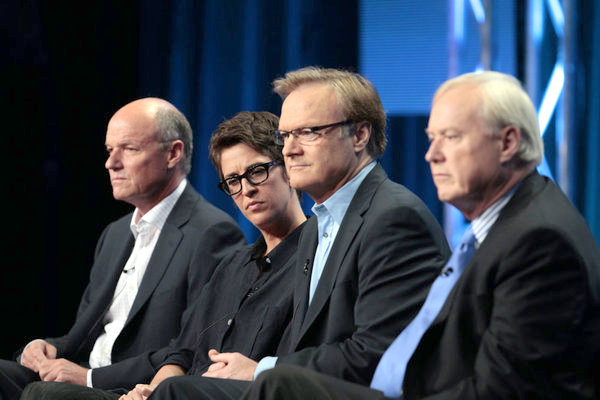 The air is filled with MSNBC intrigue: amidst a week of rumors that primetime host Lawrence O'Donnell's days at the network are numbered, a Daily Beast report says the network's longtime president Phil Griffin was rumored to be in jeopardy as well.
Griffin has been president of the network since 2008, and has already long outlived what many thought would have been his ouster years ago. But the current prime time is largely his creation: he plucked Rachel Maddow from radio obscurity and pushed her into primetime, gave Chris Hayes his 8 p.m. slot, put O'Donnell on at 10 p.m. and green lit Morning Joe.
MSNBC has seen its ratings soar since the 2016 election, with its progressive primetime lineup rivaling Fox News' usual dominance of cable news. But tensions have increased between MSNBC and NBC News and they bubbled to the surface with Maddow's anticlimactic scoop revealing President Donald Trump's tax returns from 2005.
According to reports, NBC was kept in the dark about Maddow's plan to tease the returns, before waiting halfway through her show to reveal Trump once paid $38 million in taxes.
Yet despite MSNBC's success this year, reports continue to surface that Griffin, who reports to NBC chairman Andy Lack, may be victim of a forthcoming shakeup. But network executives appear to be standing behind Griffin now in a way rarely seen in the past when stories of his demise appeared, stating unequivocally that he will be at MSNBC for "years to come."
Maybe most surprising, is that Griffin is now being portrayed as allied with many of the on air talent who had long questioned his ability to run the network:
Griffin loyalist Rachel Maddow, who happens to be the top-rated personality in cable news, had privately expressed concern about her boss's future and declared to colleagues in recent weeks that if Griffin leaves, she will follow him out the door.
The Daily Beast story quotes a source at the network claiming that MSNBC talent remains loyal to Griffin:
"If they tried to get rid of Phil," said a longtime network insider, "I don't think the place would catch fire, but anybody who has a show that airs on this network would not do their show, starting that night."
News of a possible shakeup comes amidst reports that Lack plans to take the traditionally progressive network in a more centrist direction, buttressed by the hiring of a number of conservative voices to work at the network.
—
Follow Aidan McLaughlin (@aidnmclaughlin) on Twitter
Have a tip we should know? tips@mediaite.com
Aidan McLaughlin - Editor in Chief