Rep. Peter King Dismisses Susan Rice's Libya Excuses: 'Yeah, I Don't Accept That'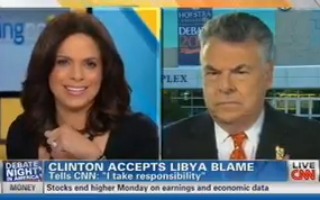 On Tuesday, Starting Point host Soledad O'Brien invited Homeland Security Chairman Rep. Peter King on to discuss the Obama administration's handling of security issues in Benghazi, Libya.
"I give Secretary Clinton credit for taking some responsibility," he told O'Brien. "I wish Joe Biden and President Obama would also take responsibility. I think the administration has a lot to explain from the day this story broke, back on September 11th, September 12th, they told misleading stories, confusing stories, contradictory stories. The reality is what they said the very first day, almost every word they've said has been disproven."
"The fact is," he added, contrary to what the administration had been telling us, "this attack showed that Al Qaeda and its affiliates and offshoots are still a powerful force against the United States and, in some ways, even more dangerous than September 11th."
O'Brien then shared remarks by Susan Rice, wherein she claimed that the information she had shared while making her Sunday morning talk show rounds after the attack in Benghazi had been flawed, but that it reflected was the most up-to-date briefing she had been given at the time, and she that she had not given intentionally false or misleading information.
"Yeah, I don't accept that," said King, adding that Rice had basically failed to perform her due diligence before sharing information with the public and that she had come forward with an agenda, which was to perpetuate the story that the attacks had been a spontaneous protest of the film Innocence of Muslims.
O'Brien then pointed out that the President had used the word "terror" almost immediately following the attack, prompting King to point out that he'd only used the term once and that his administration almost immediately denied a link to terror immediately after.
When the host noted that King seemed to not want to characterize the administration's actions a "cover-up," King corrected her, saying that he did, although he wasn't going so far as to allege unlawful activity.
Have a look, via CNN:
Have a tip we should know? tips@mediaite.com