Reporter Caught Scribbling 'Blah Blah' While GOP Senate Candidate Speaks; Drama Ensues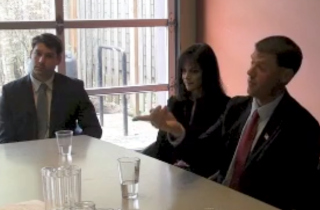 Staffers of the alt-weekly newspaper Willamette Week recently met with Oregon Republican U.S. Senate candidates seeking an endorsement and things got quite dramatic after one reporter was caught scribbling "blah blah blah" on his notepad while a candidate spoke.
Jim Romenesko flagged down the dramatic clip, which shows candidate Mark Callahan chastising reporter Nigel Jaquiss for mocking Jo Rae Perkins' rambling answer to a question (she was on the telephone and could not see the offending notepad).
"I see what you're writing down there," Callahan scolded the reporter. "You just wrote down 'blah blah blah blah' for everything that Jo Rae said. Jo Rae is a respectful woman. Why are you not respecting her by writing 'blah blah blah blah' in your notepad?"
The moderator tried to calm Callahan by declaring that they will now move on, asking the candidate for his views on climate change.
"It's a myth," Callahan replied.
"Where are you on the Easter bunny?" Jaquiss interjected.
Of course, the IT-consultant-turned-political-candidate did not find that amusing:
Are these really the questions that I was called here to answer? I called you out for putting "blah blah blah" on your notepad and now you're asking me questions like this? Really? Really? Are we talking about this now? How about you ask a very serious and respectful question instead of asking a little childish question?
The moderator sternly told Callahan he'd like to move on and ask the climate change question to the other candidates. "And if you're not going to let me, I'm going to ask you to leave, okay?" he said. "That's two strikes."
"Who do you think you are?" Callahan replied. And then he was dismissed from the room, but not before chiding "disrespectful, thin-skinned liberals."
Watch below, via Willamette Week. The drama starts at 1:06:15 into the video:
— —
>> Follow Andrew Kirell (@AndrewKirell) on Twitter
Have a tip we should know? tips@mediaite.com