S.E. Cupp Mocks Feminists For Freaking Out At Princeton Grad's Advice To Women To Find A Spouse At School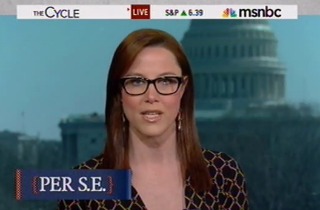 Princeton University graduate Susan Patton inspired a backlash after she published an opinion piece in The Daily Princetonian urging female students to find a suitable spouse while at school. "Find a husband on campus before you graduate," Patton wrote. Her op-ed infuriated feminists who bristled at the suggestion that a woman's goal in college should be finding a husband and not preparing for a career. On Tuesday, MSNBC host S.E. Cupp mocked what she thought has been an overwrought reaction from the feminist community to Patton's reasonable advice.

RELATED: S.E. Cupp Doubles Down In War With Limbaugh: 'There Will Be No Apology'
Cupp noted that Patton has, in her opinion, caused a stir with her column because "in 2013, you're not supposed to talk to modern, young women at an elite, liberal university about the value of getting married."
Patton told CNN recently that she was urging women at Princeton to find a man who "isn't threatened by your capacity for greatness."
"Yes, that sounds like someone who wants to keep women in big skirts and baking aprons," Cupp opined.
"We are defined by our spouses," Cupp said, noting that feminists try to ignore this inconvenient reality at their peril. She noted that finding a spouse who shares your background, values, and aptitude is something that people do naturally.
"The idea of marrying well or marrying up isn't a conversation for polite, liberated circles," Cupp continued. She identified a measure of hypocrisy in feminists who cheer a woman's prerogative to marry another woman, chose not to marry, or to exercise their right to choose when to reproduce is all "fantastic and fabulous." But to suggest that a woman should marry a good man is a "radical insult to womanhood."
"Oh, how feminism has fallen," Cupp concluded.
Watch the segment below via MSNBC:
> >Follow Noah Rothman (@NoahCRothman) on Twitter
Have a tip we should know? tips@mediaite.com