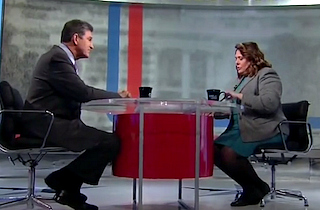 Senator Joe Manchin (D-WV) told CNN's Candy Crowley on Sunday's State of the Union that the National Security Agency's expansive surveillance program was, in fact, Orwellian, as it had been diagnosed last week by federal judge Richard Leon in his decision rendering the agency's massive phone metadata collection unconstitutional.
"You know, we always heard as a child growing up and in different phases of our life, that Big Brother is watching you," Manchin said. "And now we found out that Big Brother is truly watching you."
RELATED: Scarborough: If NSA Surveillance is Unconstitutional, Does Snowden 'Become a Whistleblower?'
Manchin also addressed the presidential panel report, released earlier this week, enumerating reforms to be made to the NSA's surveillance operations.
"The thing we need to do in this country, which is our responsibility, especially as elected officials and the government as a whole, is how do we protect the privacies of each and every American, but also protect the security of our country?" Manchin continued. "There's a fine balance there. So I'm open to listening to all the recommendations that has come out to see if we can improve upon that, without infringing on my rights and my freedoms and my privacy."
"But also, I've got to give a little bit. I remember the days, I used to walk onto an airplane without any scrutiny, without any security whatsoever. Those days have past. But you know what? I still fly."
Watch the full clip below, via CNN:
[Image via screengrab]
——
>> Follow Evan McMurry (@evanmcmurry) on Twitter
Have a tip we should know? [email protected]