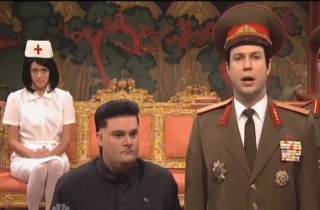 We kind of figured they would poke fun at the Dear Leader, right?
Speculation has been rampant lately that North Korean leader Kim Jong Un is no longer in control of his government, as he has not been seen in public since early September. One confidential source said last week that Kim is ay-okay, but just hurt his leg.
Well, the cast of Saturday Night Live wasn't digging that.
In the cold open this week, Kim Jong Un (played by Bobby Moynihan) was pictured in his palace in Pyongyang, surrounded by his military advisors. Those close to him are encouraging him to show himself to assert his power over his country, and the Dear Leader pushes back, saying it's not like he has Diabetes, "the gout," or just ate too much imported cheese. The guards are clearly worried about his health, and boy are they right.
Kim tries to walk toward them and has trouble doing so.
He then criticizes the decision to send a North Korean delegation to the Asian Games in South Korea — a move that made people believe more and more than Kim is no longer in power.
But then he finally offers a much-awaited explanation for his ill health: "I broke my ankle while dunking over Michael Jordan."
As he can barely even get around, he declares, "I am strong as a dragon."
Watch the video below:
[Image via screengrab]
— —
>>Follow Andrew Desiderio (@forza_desiderio) on Twitter
[Note: Mediaite intern Andrew Desiderio is a student at The George Washington University.]
Have a tip we should know? tips@mediaite.com