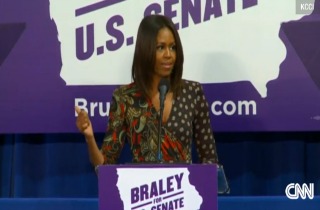 It happens to the best of us, right?
First Lady Michelle Obama traveled to Iowa on Friday to stump for Democratic U.S. Senate candidate Bruce Braley and, in an unfortunate series of events, pronounced his last name as "Bailey." But she didn't just do it once. She called him "Bruce Bailey" seven times.
"You need to elect Bruce Bailey to the U.S. Senate," she said at one point. "You gotta do it."
Luckily for her, though, a member of the audience interrupted her after the seventh time to correct her faux pas.
"Braley? What did I say?" the First Lady asked, laughing it off. "I'm losing it. I'm getting old. I've been traveling too much. I know where I am. I know what I'm doin'."
She also mistakenly referred to Braley as a Marine Corps veteran.
Donald Trump and a Republican National Committee official weighed in on the First Lady's blunders:
If a conservative Republican made the mistake that Mrs. Obama just made by calling Braley by the wrong name, it would be the biggest story!

— Donald J. Trump (@realDonaldTrump) October 11, 2014
First lady botches name of Dem Senate candidate at rally
via @thehill @JTSTheHill — http://t.co/VpzTNrmP9n #iasen http://t.co/cDdstY8VH6

— Sean Spicer (@seanspicer) October 11, 2014
Watch the video below, via CNN:
[h/t CNN]
[Image via screengrab]
— —
>>Follow Andrew Desiderio (@forza_desiderio) on Twitter
[Note: Mediaite intern Andrew Desiderio is a student at The George Washington University.]
Have a tip we should know? tips@mediaite.com