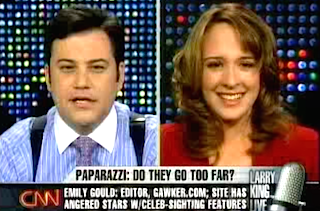 Nearly all of the discussion about Sunday night's penultimate episode of HBO's The Newsroom centered on the impeccably-timed campus rape plot and show creator Aaron Sorkin's reaction to a writer who revealed she was kicked out the writers room for challenging him on it.
But there was another scene that caught the attention of anyone who remembers the moment in 2007 when Jimmy Kimmel, filling in for Larry King on CNN, confronted Gawker's Emily Gould about that still young site's "Gawker Stalker" map.
In the fictional world of The Newsroom, the cable news network ACN has just been purchased by a young Silicon Valley billionaire who cares more about driving online eyeballs than delivering hard-hitting news on television. So he enlists a new digital editor named Bree Dorrit to spearhead "ACNgage," an updated mobile app version of Gawker's celebrity stalking feature. The whole thing so outrages anchor Sloan Sabbith (Olivia Munn) that she decides to ambush him on air about it.
This time, rather than Sorkin depicting a revisionist history of how he wishes on air journalists would have reacted to real-life events in the past, he has instead recreated the 2007 spat between Kimmel and Gould, even borrowing some of the same lines to put in his characters' mouths.
Trying to get his mind around the Gawker map, Kimmel told Gould, "So people are out, and they have their cellphones and they can send a little message to you and say, 'I just saw Gwyneth Paltrow at the movies,' and that way when Gwyneth Paltrow comes out of the movies, there could be at least a dozen psychopaths waiting for her."
In Sorkin's version, Sabbith shares this scenario with Dorrit, "So people are out there, and they can post a message to us and say, 'Kristen Bell and her kid at the 4 p.m. showing of How to Train Your Dragon at the Arclight… so that when Kristen Bell and her kid come out of the movies, there are a dozen sociopaths waiting for them."
When Kimmel called out Gawker for not fact-checking the tips it got, Gould replied, "What the Stalker map is is citizen journalism, people don't read it with the expectation that every word of it will be gospel. Everyone who reads it knows that it isn't checked at all. What they read it for is the immediacy."
On The Newsroom, Dorrit also calls ACNgage "citizen journalism," adding, "People don't read this with the expectation of it being true… They read it for the immediacy."
And the similarities didn't end there.
Just in case those watching didn't pick up on the parallels, Sorkin threw in one more hint when Sabbith used Kimmel as an example of ACNgage getting it wrong. Just as Kimmel confronted Gould for saying he was "visibly intoxicated" when he was actually coming home from his one-year-old cousin's birthday party, Sabbith asks Dorrit why the ACN app said Kimmel was "visibly intoxicated" at the Soho House when he was really in Cabo San Lucas with his family.
While Sorkin has always used The Newsroom characters to show real news anchors what they could be doing better, this time he decided to subtly hold Jimmy Kimmel up as an unexpected paragon of journalistic excellence in world that he believes cares way too much about how "visibly intoxicated" celebrities are.
Watch the original Larry King Live video below, via CNN:
And the same scene from The Newsroom below, via HBO:
[h/t Reddit]
[Photo via screengrab]
— —
>> Follow Matt Wilstein (@TheMattWilstein) on Twitter
Have a tip we should know? tips@mediaite.com