Ted Cruz To Megyn Kelly: Eric Holder Should Resign For 'Unprecedented' 'Willingness To Disregard The Law'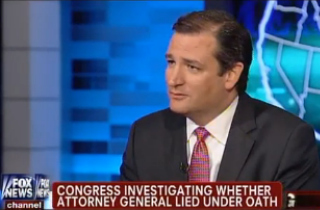 Appearing on Fox News' America Live this afternoon, Sen. Ted Cruz (R-TX) blasted the Department of Justice, the Internal Revenue Service, and leaders from both parties for "not respecting the Bill of Rights" through a variety of recent scandals including the snooping on journalism outlets and the purposeful targeting of conservative groups for additional tax scrutiny.

"The conduct of the Justice Department does not inspire confidence," Cruz told host Megyn Kelly. The DOJ's snooping on reporters at the Associated Press and Fox News is "unprecedented," he said, but it's "part and parcel of a pattern from this administration of not respecting the Bill of Rights — not respecting the First Amendment, not respecting the Second Amendment, not respecting our Fourth and Fifth Amendment rights regarding drone strikes."
Cruz went on to assert that President Obama should "absolutely" call for Attorney General Eric Holder's resignation because of the AG's "willingness to disregard the law." Cruz cited last year's "Fast and Furious" scandal, in addition to the recent media probes, as an example of what he sees as the DOJ's unlawfulness.
Kelly brought up Cruz's reputation as a "bomb thrower" and someone who "purposely" tries to start political war because he "hates both parties." In response, the Texan senator said that both parties are culpable in not having fixed the debt problem.
As for the "too far right" insults levied at him, Cruz said, "Folks are entitled to throw whatever insults they want. From my end, I have no intention of reciprocating. I will not response in kind."
Watch below, via Fox:
— —
>> Follow Andrew Kirell (@AndrewKirell) on Twitter
Have a tip we should know? tips@mediaite.com