The Dunham Disconnect: NYC Media Love for Lena Isn't Shared by Rest of America
Concha: NYC Media Love for Lena Dunham Isn't Shared by Rest of America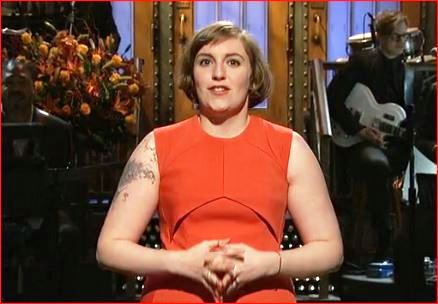 Lena Dunham was recently crowned "America's new queen of comedy" in a recent cover story in Vogue.
Her Girls character, Hannah Horvath, says she is "the voice of her generation."
And on the heels of her Saturday Night Live hosting gig last week, Vulture declared the 27-year-old as "The Host of Her Generation."
The term "bubble" has been written about in this space before. It is defined as a world where folks in TV news live in, a world where 10-18 hours a day is consumed by what is going on in the world, what the hot stories are, and how to best present these stories to an audience. Oftentimes however, bubble stories don't match what audiences tuned in for. But bubble stories play nicely to people that matter in the industry places like New York (because that's where most media companies and publications are headquartered), so the feedback on the content is invariably positive, although the thing that matters most—ratings, the size of an audience showing interest—may not reflect that sentiment.
Need proof? Just check out the hysterical coverage of any snowstorm that hits New York. Six inches is headed towards Manhattan? Better get the extra-obnoxious breaking news banner out! Six inches in Philadelphia? Kansas City? An ice storm in Dallas? Oklahoma City? Yawn. Doesn't affect us.
Which brings us back to the bubble phenomenon around Ms. Dunham…
Is she a relative success? Absolutely. She has her own HBO show and is the toast of Manhattan media. She and her boyfriend got to hang at the White House with the President and First Lady last summer. She's like a daughter to Judd Apatow. She has 1.45 million Twitter followers. She got multi-millions in an advance book deal. And she isn't riding to stardom just because she's the next pretty face who can also act like Julia Roberts or Scarlett Johansson or Jennifer Lawrence before her.
But the next queen of comedy?
The voice of a generation?
The host of a generation?
The numbers tell a much different story.
For starters, her HBO show is one of the lowest rated on the network, averaging about 800,000 viewers per first-run episode. That number sounds pretty good until comparing it to other HBO shows such as True Detective (3.1 million), the late Sex and the City (3.5 million) or Game of Thrones (4.97 million). But if you read review after review after (glowing) review, the only conclusion one could come to was Dunham was single-handedly keeping the network from extinction.
As for the voice/host of a generation, it's a nice sentiment until seeing that said generation isn't exactly flocking to their televisions to see her host the likes of Saturday Night Live. In that capacity last week, Dunham—despite getting naked again for the 101st time since entering the national stage two years ago—helped SNL register its second-lowest audience of the season. For context, the Dunham-hosted show was even 20 percent lower than the show hosted by the less-hyped Jim Parsons (The Big Bang Theory) the week prior. This result comes despite as big a promotional push as you'll see for a non-NBC employee leading up to the show in the form of featured appearances on Late Night with Seth Myers and The Today Show. And none of it mattered.
Why?
Because, in my opinion, Lena Dunham is who she is: Largely unfunny, profoundly annoying, extremely self-important. And don't even think about asking her any obvious questions during a press conference…she's proven to be more thin-skinned than Alec Baldwin. Just ask reporter Tim Molloy of The Wrap, who politely asked why there was so much nudity on Girls, particularly by its lead character. Here was Dunham's response:
"Yeah. It's because it's a realistic expression of what it's like to be alive, I think, and I totally get it. If you are not into me, that's your problem," she said.
That's when Judd Apatow—who was also at this press conference, jumped in and got personal.
"Do you have a girlfriend?" he asked.
"Sure," replied Molloy.
Apatow: "Does she like you?"
Molloy: "Yeah."
Apatow: "Let's see how she likes you when you quote that with your question and just write the whole question… and tell me how it goes tonight."
 
Whatever that means.
What Dunham and Apatow can't seem to grasp is that Mr. Molloy isn't alone in his perspective. You can't meet anyone who knows Dunham's work who doesn't ask the same question about the nudity aspect. The simple theory here is Lena doesn't have anything resembling depth in the acting or comedy department, so she resorts to shock value. Audiences find the act tired, repetitive and self-absorbed, so they tune out.
There are bubble stories that play very well in New York. A little snow hits, the "national" media (mostly based in Manhattan) lets the rest of the country know about the horror they're about to endure.
Same goes for the blizzard of coverage around the dusting of snow that is Lena Dunham's talent.
The media may be very much into her…
But to almost everyone else on the planet without a byline—those outside the bubble—it hasn't exactly been love at first, or 101st, sight.
— —
>> Follow Joe Concha on Twitter @ConchaMedia
Have a tip we should know? tips@mediaite.com