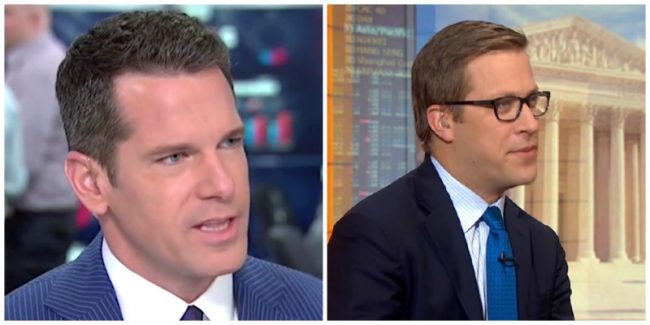 Mediaite has learned that MSNBC anchor Thomas Roberts is officially out at the network and will be replaced by Bloomberg's David Gura. The network is claiming that Roberts is moving on and has provided the following statement:
Per an MSNBC Spokesperson:  "Thomas Roberts has decided to leave MSNBC for other endeavors. He's been a valued member of the NBC News and MSNBC family since 2010, and we're thankful for his contributions and Emmy Award-winning coverage for the news division. We wish him success in his new adventure."
This version of events runs counter to what Mediaite has heard which is that Roberts was made many unfulfilled promises and that MSNBC staffers are upset that Roberts, a very highly regarded colleague at MSNBC, has been forced out.
MSNBC provided the following statement from Roberts:
"Being your colleague, for nearly eight years, has been an unforgettable privilege for me.  I will always pride our work, achievements and friendships made during that time.  I've learned the only constant in this wild world is change.  It's time for me to make a change and begin a new adventure.  I look forward to sharing it with you very soon. Your Fan, Thomas"
What makes this particularly interesting is that Gura has already been seen walking around the studio meeting with certain key people. Gura comes from Bloomberg,  where NBC News chairman Andy Lack previously worked, though their stints there did not overlap. The official announcement of Roberts' departure and Gura's hiring was scheduled for early next week.
In recent months, it was expected internally that Roberts was prepping for an upcoming two-hour weekend news program. So this news may come as a surprise to some at the network. On the other hand, Roberts has been somewhat adrift at the network since his weekday MSNBC program Live with Thomas Roberts was quietly canceled in December 2016.
Another thing to notice with this move is that it is just a weekend anchor job and yet we are told it was made by Lack directly not MSNBC president Phil Griffin, something that an official MSNBC source disputes. There is heightened sensitivity surrounding Lack's role since many inside the network believe Griffin will soon be replaced by his "number two," former CNN showrunner Jonathan Wald. Wald, who was also hired directly by Lack, left CNN earlier this year to become the SVP of Programming and Development at MSNBC.
Roberts has been with MSNBC since 2010. Besides anchoring Live with Thomas Roberts before its cancellation, he hosted Out There with Thomas Roberts, a weekly program on LGBT issues, on the networks digital live streaming network until 2015. He's served as a substitute anchor for NBC's Today and a correspondent for NBC News. Roberts also made history when he was the first openly gay network evening news anchor when he filled in as the anchor for NBC Nightly News in 2015.
Gura has been with Bloomberg TV since March 2015 as an anchor and correspondent. Prior to joining Bloomberg, Gura was a reporter and interim host for American Public Media's Marketplace and a reporter for NPR.
[image via screengrab]
—
Follow Justin Baragona on Twitter: @justinbaragona
Have a tip we should know? tips@mediaite.com