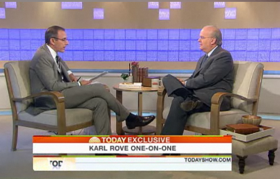 After yesterday's intimate pre-recorded interview with Matt Lauer on Today, Karl Rove stopped by the studio to talk to the host live about three of the most controversial issues of the Bush administration: the invasion of Iraq, the aftermath of hurricane Katrina, and the Valerie Plame CIA leak scandal. Unlike yesterday, this Rove showed no signs of remorse or vulnerability, and stuck to his points against an increasingly combative Lauer.
Pressed by Lauer to acknowledge that the Bush administration misled the country in announcing that Saddam Hussein had weapons of mass destruction, Rove roped in every other major political figure at the time that supported the decision, noting,"if President Bush lied, then President Clinton lied, Senator Clinton lied, Senator Kerry lied, Senator Edwards lied." When questioned about the real-time information journalists were broadcasting during Hurricane Katrina that Lauer suggested did not reach the White House, Rove answered that much of it was inaccurate and used as an example the reports that snipers were firing at incoming help, which led to many rescuers refusing to enter some of the affected areas.
Lauer was on the offensive most, however, over the leak of CIA agent Valerie Plame's name to journalist Bob Novak, to whom Rove was considered a second source in confirming her identity. Lauer suggested it was impossible, based on the timing of the leak, for Rove not to know he was a source, and vicariously demanded an apology for White House Press Secretary Scott McClellan, who caused a stir when he released a book denouncing the Bush administration in 2008. Rove, who has responded previously to McClellan's grievances, refused to apologize, and insisted, "I didn't know her name," thus making it impossible for him to be a second source.
Watch Lauer's tense interview with Rove below:



Have a tip we should know? tips@mediaite.com