WaPo's Rezaian Watched Historic NBA Game Live: 'More Enjoyable' Than Iran Detainment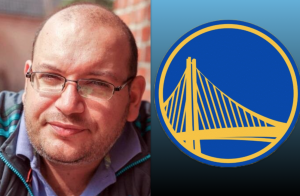 Last night, the Golden State Warriors made NBA history by winning their 73rd game of the regular season, snapping the twenty-year record set by His Airness Michael Jordan and the Chicago Bulls. A sold out crowd at the ORACLE Arena in Oakland, California was on hand to watch the finishing touches on a 73-9 season, and a former American detainee was in the crowd enjoying every minute.
Jason Rezaian of The Washington Post was released after eighteen months of imprisonment in Iran back in January along with three other prisoners. Rezaian, a huge Golden State fan, was at the arena live last night to watch Steph Curry bury 46 points en route to a big win over the Memphis Grizzles:
Watching history from near the court in #oakland is more enjoyable than being news in court in #iran. #warriors #73 pic.twitter.com/nJ7CTTCpyd

— Jason Rezaian (@jrezaian) April 14, 2016
Rezaian even managed to have a bit of fun with the situation, joking that it was "more enjoyable than being news in court in #iran." It is a bit of well-deserved fun for the California native who will surely be watching his Warriors storm into the playoffs looking to cap off the greatest season in league history.
Rezaian has covered Iranian-American relations for much of his career in journalism, though as he revealed just months ago, he never imagined that he would become a part of the story himself. Following his release in January, Rezaian gave a few remarks to the press outside of a German hospital, thanking the people responsible for securing his freedom and even invoking his hometown favorite Warriors directly. He said:
"I want everyone to know that I'm feeling fine, and I feel lucky to be here at a place where I can get such terrific care. I appreciate everything that has been done on my behalf… But I won't be saying anything further for awhile. I hope everyone will respect my need for privacy as I take some time for myself and for my family. For now, I want to catch up with what's been going on in the world, watch a Warriors game or two, and see the Star Wars movie."
Although Rezaian was imprisoned in Iran during last year's playoffs (when the Warriors won the NBA Championship), Wednesday night's game was one of the greatest in franchise history. Congrats, Jason!
[image via Twitter]
Have a tip we should know? tips@mediaite.com