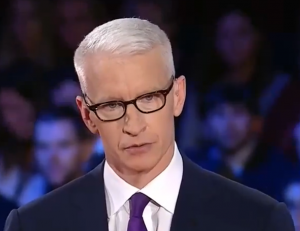 And the winner of the first Democratic debate on CNN is…
Anderson Cooper.
Right from the opening tip, you can see Cooper came focused, unafraid, loaded with quality, relevant research. He asserted himself as the strongest figure of the presentation, candidates included. In the end, Cooper showed why he's one of the top journalists in the game: He was impeccably prepared, wasn't hesitant to follow-up when warranted and didn't offer up one question–not one–that could be considered frivolous or fluffy…and that was clearly evident from his first question to Hillary Clinton:
Secretary Clinton, I want to start with you. Plenty of politicians evolve on issues, but even some Democrats believe you change your positions based on political expediency. You were against same-sex marriage. Now you're for it. You defended President Obama's immigration policies. Now you say they're too harsh. You supported his trade deal dozen of times. You even called it the "gold standard". Now, suddenly, last week, you're against it.

Will you say anything to get elected?
After Clinton claimed she has always been very consistent before veering into talking points about wages, Cooper stayed the course after not getting an answer to the original question.
COOPER: "Secretary Clinton, though, with all due respect, the question is really about political expediency. Just in July, New Hampshire, you told the crowd you'd, quote, "take a back seat to no one when it comes to progressive values. Last month in Ohio, you said you plead guilty to, quote, 'being kind of moderate and center'. Do you change your political identity based on who you're talking to?"
Then came Bernie Sanders' turn:
COOPER: Senator Sanders. A Gallup poll says half the country would not put a socialist in the White House. You call yourself a democratic socialist. How can any kind of socialist win a general election in the United States?
And the challenges kept coming throughout the night to each of the five candidates on stage. When Jim Webb complained about being cut off when his allotted time ran out, the moderator calmly informed him that those were the rules he agreed to. Throughout the evening, Cooper scolded those who went to rehearsed lines and followed the age-old rule of not answering the question asked, but the question they wanted asked with the same effective retort:
"You didn't answer the question."
Could there have been a question on Planned Parenthood? Sure. Questions on the president's economic record particularly as it relates to labor force participation, income inequality expansion or falling wages? Yes. Should Cooper have asked Hillary if all lives matter following Don Lemon's Facebook Black Lives Matter question? Absolutely. Were the other moderators (Dana Bash, Juan Carlos Lopez) worked into the debate more than the CNN GOP debate as promised? No.
All of that said, Anderson Cooper showed presence, consistency and gravitas on Tuesday night. Focused. Prepped. The questions were natural in their delivery, difficult in their content and stated with conviction. And the job is much harder than it looks.
He earns a solid 'A'. And at least from the standpoint of media observers, wins the night.
— —
Follow Joe Concha on Twitter @JoeConchaTV
Have a tip we should know? tips@mediaite.com