'Whoa! Her Wherever?': John Oliver Takes on the Donald Trump vs. Megyn Kelly Feud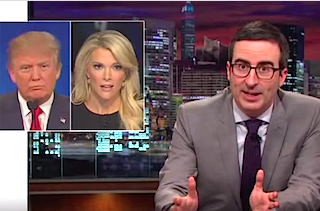 With Jon Stewart signing off before the first Republican presidential debate was even underway, it was up to John Oliver to provide America some much-needed satirical reaction to the man of the hour, Donald Trump. And thankfully, despite his overwhelming disinterest in all things 2016, the Last Week Tonight host was happy to oblige.
"The entire debate was basically a two-hour circus sideshow with an old piece of luggage covered in Cheez Whiz as its center," Oliver said at the top of Sunday night's episode, adding that the whole thing would soon be "entirely forgotten" were it not for the bizarre interactions Trump had with Fox News moderator Megyn Kelly.
After playing a clip of Trump's now-infamous "blood coming out of her eyes, blood coming out of her wherever" comment, Oliver said, "Whoa! 'Her wherever?' You can only imagine how talented a lover Donald Trump must be: 'I'm just gonna put my thingamajig in your wherever and I'm going to waggle it. I'm going to waggle it around.'"
But beyond that, Oliver had more important things to talk about than Trump. "Now, if you want to hear more on the Trump/Kelly showdown, you can basically tune in to any news network right now, because it is all they're fucking talking about," Oliver said. "But we are going to move on, and I'll tell you why: This whole debacle was meaningless. The 2016 election will not depend on this because it's 457 days away. There will be actual babies born on Election Day 2016 whose parents haven't even met yet. So everyone pace yourselves."
Watch video below, via HBO:
[Photo via screengrab]
— —
>> Follow Matt Wilstein (@TheMattWilstein) on Twitter
Have a tip we should know? tips@mediaite.com