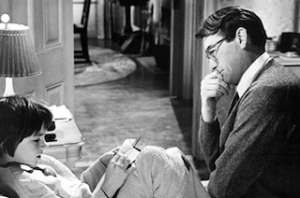 On this Father's Day, as I prepare to launch Our Mockingbird, my documentary about To Kill A Mockingbird, it's hard not to think about my own father in light of the world's most iconic father, Atticus Finch.
For many of us To Kill A Mockingbird is an anthem to Fatherhood. Atticus is the father we wish we'd had, the father we never had, father of all fathers.

My father was no Atticus Finch. Not even close. Yet, the countless times I have read the book To Kill A Mockingbird or watched the movie, I am reminded of him.
Like Gregory Peck, he was tall and spoke softly with a lilting Alabama accent. But he was not a lawyer, in fact, I was never really sure he finished high school but that was for economic reasons not because he didn't have the chops. As a kid, he was such a fast reader that for fifty cents a pop, he read his classmate's books and did their book reports for them. Though it might appear that by sharing that anecdote he was teaching me to cheat, most often his moral compass pointed me in the direction of good. He did not cotton to bad behavior at someone else's expense like the afternoon I came home from Howard Johnson's and bragged that I dropped my half eaten ice cream on purpose so they would give me a new cone for free. He plopped me into the Impala and drove me straight back to HoJo's where I gave the stunned and confused cashier what was probably about 35 cents for the cone I had "stolen." I never forgot that or the book report story, a primer on speed-reading, a skill he was sure would serve me well.
My father owned a small but respectable auto parts shop in a part of Birmingham that was considered a rough part of town. I used to love to come to his work, mostly because his refrigerator was filled with ice cold bottled Cokes. Back when there were still White Only and Black Only signs everywhere, he traded with both, so my brother and I grew up knowing that though we lived in an all white neighborhood, my father didn't hate anyone and treated all his customers with dignity. In 1977, when it was reported that Robert Chambliss would be prosecuted for the 1963 bombing of the 16th Street Baptist Church and the deaths of four innocent girls, my father said that he was not surprised because Chambliss had been one of his customers; "the most racist man I ever met." I like to imagine my father standing tall against the Chambliss spew and throwing him out of his establishment, but my guess is he just took his business and sent the bigoted murderer along his way.
Though he may not have stood tall enough against Chambliss, and he did not defend a black man who was unjustly accused of raping a white woman, something he imparted to us by example must have inspired my brother to go to law school and defend others who were unjustly accused including three men exonerated from death row.
My father was a quiet man who fought in World War II, saw and did things he would never share with us, and just wanted to live a quiet life watching the world go by, trying to do the best that he could for his family. He was an avid reader who didn't talk much, and I think he treated us in the same way that Atticus Finch is described as treating his own kids, "with courteous detachment."
Atticus Finch was not a perfect father. Those don't exist. On this Father's Day, all anyone can do is try their best and hope for that stolen ice cream cone moment that holds enough lessons for a lifetime.
—
Sandra Jaffe is a filmmaker from Birmingham, Alabama who currently lives in Watertown, Massachusetts. Her latest film is Our Mockingbird, which you can find more information about at OurMockingbird.com or Facebook.com/OurMockingbird.
Have a tip we should know? tips@mediaite.com