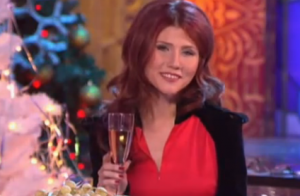 Erotic model, lion tamer and now–playing a sultry spy in a comedy skit on Russian TV. Yes, Anna Chapman is the story that keeps on giving.
As you may remember, the 28 year old–or, as the New York Post put it, the "red-hot beauty" and "007-worthy beauty"–was caught up in a bizarre string of spy arrests in New York last summer. The FBI at the time accused Chapman of passing secrets to an undercover agent posing as a Russian official.

Now, back home in Russia, Chapman's cashing in on her notoriety with a high-profile turn as an actress on the Russian TV show Seventeen Moments of Spring. As the Toronto Star describes the scene (sorry our college Russian failed us):
With a piano setting the mood, an announcer embarks on the romantic tale where Chapman sits at a New Year's party, staring longingly at Maxim Isayev, (a fictional James Bond-like hero from the legendary Soviet series), a few tables away from her.

"They had never met, because in the United States they do not show Seventeen Moments of Spring," the voice says according to AFP.
Doesn't sound all that funny, but then we don't exactly have a modern Russian sensibility for humor, now do we? The skit–which was part of a big blowout New Year's Eve special–ends with Chapman speaking:
If you have love hidden deep your heart, you will never succeed in concealing it. It is best to come out with it. And New Year's night is the best time for this.
The Star suggests that Chapman may be thinking of a future in politics, saying she's joined a pro-Putin youth group, and may run for parliamentary elections later in 2011. Of course we'll keep you posted.
In the meantime, here's the skit, in Russian and sadly fully safe for work, from YouTube:
Have a tip we should know? tips@mediaite.com