Buffalo Man's Feud With Neighboring Mosque Leads To 'Bomb Making Next Driveway' Sign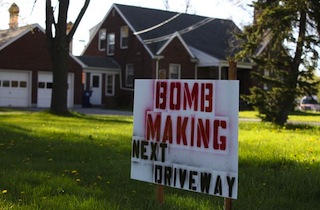 Oh, my! Is somebody making a hilarious All In the Family remake for the 21st century? In which the Jeffersons are actually a mosque and Archie Bunker gets back at them for their bright lights by hanging a sign out in his yard saying "Bomb Making Next Driveway"? That's hilarious!…Wait, what's that? This isn't a socially conscious Norman Lear sitcom? It's real life? Oh. Well, then that's slightly less funny.
The story of the slightly provocative lawn sign comes from Amherst, New York, where Michael Heick has gotten fed up with the Jaffarya Islamic Center of Niagara Frontier situated next door to his house. Apparently, he's been trying to get them to build a six-foot fence to block out their lights. They planted shrubs that will grow to six feet. That wasn't good enough for Heick and the town wasn't responding to his complaints so, obviously, it was time to accuse the religious center of terrorism.
From BuffaloNews.com:
"Heick said he put up the sign because he was frustrated with how the mosque and Amherst town officials have handled his concerns about the building, which opened in November.

'The place is too close. I don't care what people think. It doesn't matter what people think,' he said Monday evening from his front porch. 'This is a way to get answers now. I get none from the town. The intent was to catch the eye of the people who I have a problem with.'"
Well, consider those eyes caught. And then some!
Of course, there's an upside to all this. If someone's pissed off at a mosque, you know what that means: Summer's officially started! Yay!
(h/t Reddit, photo via Harry Scull, Jr. of the Buffalo News)
Have a tip we should know? [email protected]